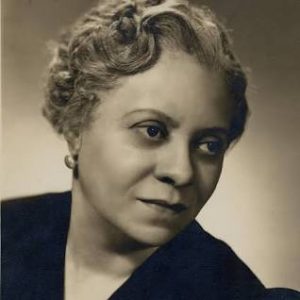 Florence Price is a name we are all hopefully familiar with. She was the first African-American woman to have her compositions performed by a major American symphony orchestra, and her life and work remain an important part of our history. Born in Little Rock, Arkansas in 1887, she was a musician from an early age and attended the New England Conservatory of Music in Boston when she was a teenager.1  In order to better her chances of attending the conservatory, some sources say she was dishonest about her racial background (she was the child of a biracial couple). In 1932, she won a prestigious composition competition and had the opportunity to have her Symphony No. 1 in E minor performed by the Chicago Symphony.2
Her career took another step forward when she was asked to perform her Concerto in One Movement with the same orchestra as the solo pianist. However, despite a promising start to her career, she struggled to gain recognition and opportunities because of her race and gender. She continued to release music under the male pen name of "Forrest Wood".3
Throughout her career, she worked closely with pianist and composer Margaret Bonds, poet Langston Hughes, and contralto Marian Anderson.4
Her career was rife with racism and sexism – the fact that she was writing under a male Western name shows how she was forced to erase her own identity to survive. Her reviews, even supposedly positive ones, were all saturated with the same bias, like this one I found in the Chicago Defender:
"Florence Price's contribution in the form of a piano concerto was by far the most important feature of the concert for here we see what the Negro has taken from his own idiom and good technique is beginning to develop on its own." 5
Or this quote from Price herself:
"Unfortunately the work of a woman composer is preconceived by many to be light, froth, lacking in depth, logic, and virility. Add to that the incident of race–I have Colored blood in my veins–and you will understand some of the difficulties that confront one in such a position."6
Price and her family were forced to leave Little Rock for Chicago in 1927 due to the increasing violence towards Black people in the South, directly following several lynchings in her area.7
While musical opportunities were greater for her in Chicago, she died with most of her 300+ works unpublished and inaccessible to the public until 2009, when boxes of sheet music were found in an abandoned house in St. Anne, Illinois.8 The house had been vandalized with the valuables stolen, but the sheet music was untouched and bore Price's signature. Price's music had been left in the house, which was discovered to have been her summer home, since her death in 1953. So why did it take this long for her works to be discovered, and how many other compositions and groundbreaking musical works lie untouched and undiscovered, just like Price's? how many other Black composers remain uncredited for works we know and love? The erasure of Black history is a massive problem in America, and it is especially prevalent when looking at our musical history. Price is just one example of this.
4
"Florence Price: Breaking Barriers of Race and Gender in Classical Music." Pacific Chorale, www.pacificchorale.org/florence-price-breaking-barriers-of-race-and-gender-in-classical-music. Accessed 11 Nov. 2023
6 Busch, Elizabeth. "Florence Price: Composer, Teacher, and Pianist." Csmleesburg, csmleesburg, 10 Feb. 2022, www.thecatoctinschoolofmusic.com/post/florence-price-composer-teacher-and-pianist.
7 "Florence Price: Breaking Barriers of Race and Gender in Classical Music." Pacific Chorale, www.pacificchorale.org/florence-price-breaking-barriers-of-race-and-gender-in-classical-music. Accessed 11 Nov. 2023