As someone who is not very familiar with both ballet or minstrelsy, I didn't think there was any relation between them. But more research led to clear connections between ballet and minstrelsy, primarily abroad in the current world. Closer to home but further in the past, it turns out that a minstrel themed ballet called Blackface was created by Lew Christensen, a choreographer who was the ballet master of several major ballet societies in the US.1 While described as a failure2 (perhaps rightly so given its content), this ballet could say something about the connection between minstrelsy and ballet. 
Talley Beatty and Betty Nichols are pictured below in Christensen's Blackface.3 Both encountered racism in ballet, especially early in their careers in the 1940s. In fact, Betty Nichols was the first black student at the school of American Ballet.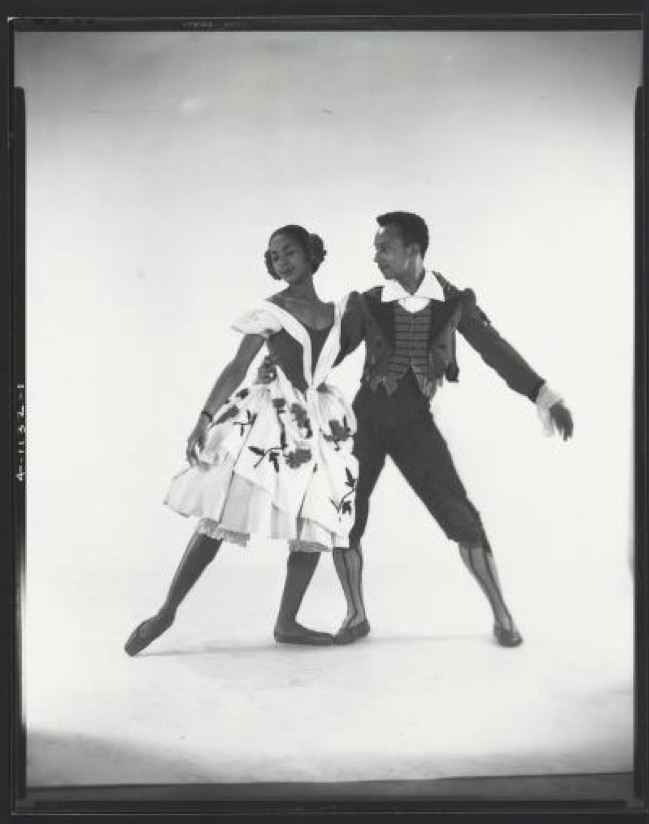 4 Interestingly enough, another picture by American Photographer Larry Colwell listed a similar picture (with clearly Talley's same dance partner, Betty) in the Library of Congress as "Beatty, Talley, with unidentified partner."5 This 'unidentified partner' is clearly Betty Nichols.
Searching up Lew Christensen's ballet Blackface brought nothing up online. Was this censored, or taken down because of its content? Searching through sources, I could not find any that had detailed information on this ballet. This instance brings up a question for discussion: Are we to take down and forget a history of racism in our country, in order to get rid of it? While it is hard to generalize, in almost all cases the answer is the opposite. Instead of hiding a past history, it should be known so that we can realize the mistakes humans have made in the past, and learn from them. And if you didn't know, there is actually a whole career path devoted to that: being a historian.
1  "Betty Nichols and Lew Christensen." MoBBallet.org, https://mobballet.org/index.php/2022/02/21/betty-nichols-orbit-lew-christensen/
2 "Larry Colwell Dance Photographs." Library of Congress, https://www.loc.gov/collections/larry-colwell-dance-photographs-1944-to-1966/about-this-collection/
3 "Talley Beatty and Betty Nichols". New York Public Library Digital Collections. Jerome Robins Dance Division souvenir program files, 1947. https://digitalcollections.nypl.org/items/b804aee0-cf3c-0136-0af7-5dc327e0d399
4 Macaulay, Alastair. "Betty Nichols – Black History Month in Dance, 14." 15 February. https://www.alastairmacaulay.com/all-essays/6csitm8yle894tttza30umd8vqsyyl
5 "Larry Colwell dance photographs: Studio or publicity photos: Beatty, Talley, with unidentified partner". Library of Congress. https://www.loc.gov/item/muscolwell-200224941/