We often focus importantly on the elements of minstrelsy which tie each troupe together; the costumes, dialect, racial humor, and urban audiences, however the Georgia Minstrels were breaking this tradition as early as 1876. They were often asked to perform in vocal ensembles in churches and classical music performance venues, often part of a larger organized group's performance.
One such performance was on March 12 1876 at the Boston Theatre where the Georgia Minstrels were invited to perform at the Grand Sacred Jubilee Concert, featuring the Grand Jubilee singers and others presenting works by Haydn, Rossini and other classical composers as well as Negro spirituals. Here is one piece which is from Plantation Songs and Jubilee Hymns (1881):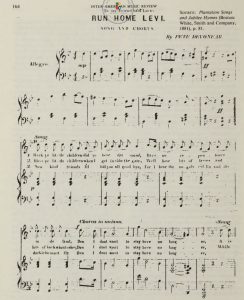 This piece is similar to many we have looked at already, as it repeats the phrase, "Den I dont want to stay here no longer" before jumping into the chorus which reads "Run home Levi, run home for de sun's down." The Georgia minstrels drew heavily on character songs and plantation songs, and not as much on Negro Spirituals.
It was novel for me to find out that there was a place in classical music and choral negro spiritual venues for minstrel songs. Though it is not clear whether or not the Georgia Minstrel singers dressed up fully as they would for a show, minstrelsy clearly had a place in American society as early as the the 1870's.