Florence Price was one of the countless Black musicians in America to compose and perform during the 19th century. She was a classical pianist, composer, organist, music teacher, and the first Black woman to have her composition played by an orchestra. Doing a Google search for her though turns up many articles about how America has forgotten about her. During the time of her life, however, audiences seemed quite delighted with her performances. A search on newspapers.com reveals many reviews of her doing all kinds of performance.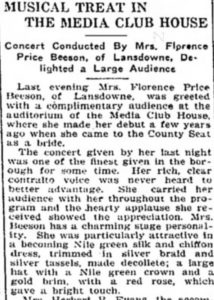 This clipping from Chester, Pennsylvania in 1917 reads: "Mrs. Florence Price was greeted with a complimentary audience at the auditorium where she made her debut a few years ago…Her rich, clear contralto voice was never heard to better advantage. She carried her audience throughout the program, and the hearty applause she received showed the appreciation."1 Interestingly, the rest of the review goes on to talk about what she was wearing that night. I did not look, but doubt performance reviews for H.T. Burleigh capitalized on his wardrobe choices. Perhaps this is one of the reasons America has forgotten about her. After all, she won the Wanamaker prize just as H.T. Burleigh, Nathaniel Dett, and William Dawson all did. Her symphony in E minor for which she won the Wanamaker award for in 1923 is particularly interesting to analyze. According to a review by notorious commentator Alain Locke, her symphony provided a way for any person to enjoy music in an "un-racialized" way because it did not include overt references to recognizable African American music. Instead, the way it incorporates folk songs is by use of the pentatonic scale, juba rhythms, polyrhythms, and call and response.2
[1] 31 Jan 1917. Delaware County Daily Times. https://www.newspapers.com/image/5425595/?terms=%22Florence%20price%22%20piano&match=1
[2] Floyd, Samuel A. Black Music in the Harlem Renaissance: A Collection of Essays. Knoxville: University of Tennessee Press, 1993.