While looking through the Sheet Music Consortium, it occurred to me to look into songs I had some base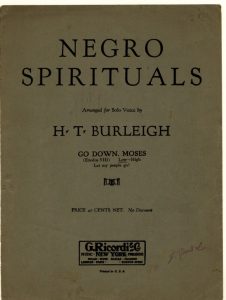 familiarity with. Go Down, Moses is a very popular spiritual which came directly from enslaved African Americans at plantations. The song itself refers to Moses and the Hebrew people. In said story, the Hebrews are held captive by the Pharaoh. God tells Moses through the story of the burning bush to free his people from the Egyptian tyrant. Through sending plagues, flocks of locus, making the red sea red with blood and more catastrophes, the Pharaoh agrees to let the Hebrew people go. To the enslaved African Americans working their lives away, this spiritual was the promise of emancipation.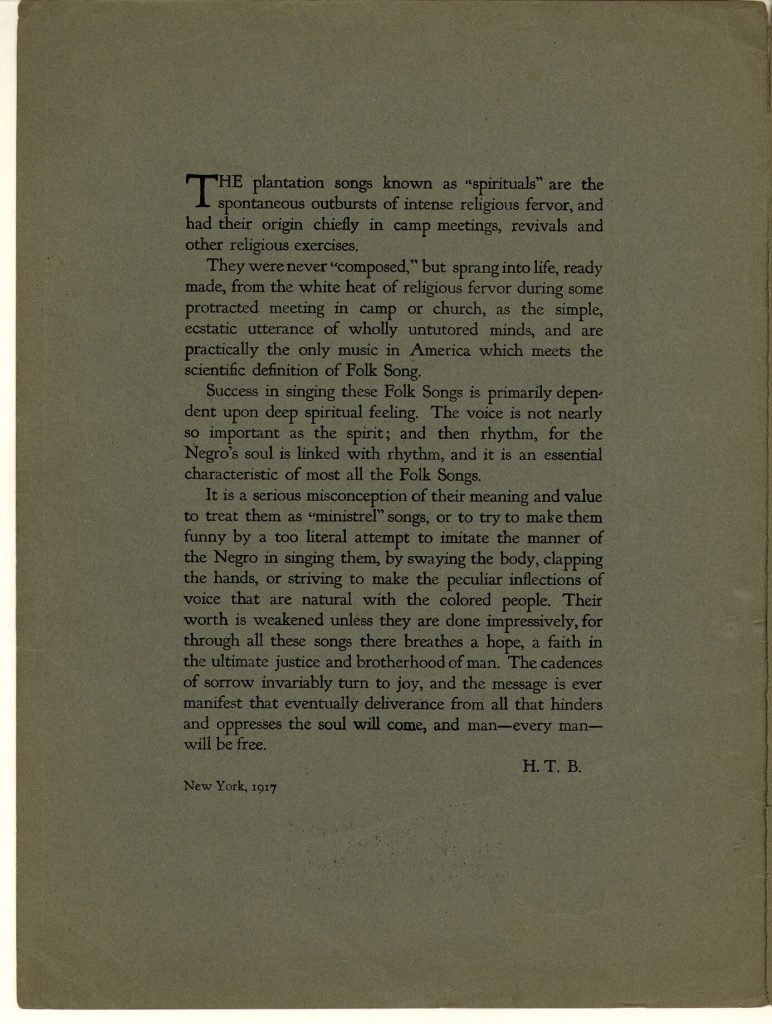 Included above are the notes in the front cover from H.T. Bureigh on the difference between spiritual and minstrel, how to perform this piece, and what this piece and these words mean. H.T. Burleigh writes about how to perform this piece, and what it means for African Americans. In order to sing correctly, you have to have soul, more than correctness of pitches. And you have to learn the difference between a spiritual and minstrel song. Burleigh invites the singer to feel the words, so that every man will be free. This brings up a question, what actually is the difference between minstrel songs and spirituals? A spiritual is a song that represents something to an audience, and to the performer. Its goal is to stir the people and help them think in a different way, or further affirm their beliefs. Spirituals have been featured in African American minstrel shows, but those shows also featured a wide variety of music: secular, comedy, and eventually spirituals. And few were better at arranging these spirituals as H.T. Burleigh.
On the topic of H.T. Burleigh, in Music 345, we have studied Burleigh, so that name likely rings a bell. H.T. Burleigh was one of the first prominent black composers. In his life, Burleigh had a small singing career and arranged art song but focused mostly on arranging and composing spirituals. His works are still performed to this day, about a hundred years later. The song itself has stood the test of time, being one of the most popular spirituals ever. But just as the song stands the test of time, so does this story. His words, in the front cover of Go Down, Moses invoke the message of the spiritual. This, of course, is something we continue to strive for today as a society. And yet, people still need to hear these words in order to believe them, and to understand that all people must be free.
Go Down, Moses; Let My People Go!, Burleigh, H. T. (Harry Thacker), 1917, Accessed 10/20/2022.