For the title of this course being "American Music", it is strange that we haven't discussed the fact that "America" is not synonymous with "United States". It is often overlooked that Canada is indeed American, as it is part of North America, and Central and South America are usually both overlooked entirely. North America, Central America, and South America are all themes within Brazilian pianist Eliane Elias's jazz album "The Three Americas".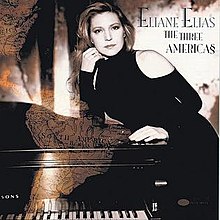 The opening track of the album, "An Up Dawn" starts as a jazzy song with prominent scatting and piano, but morphs in a very latin piece. The rhythms are very danceable and syncopated, keeping true to a jazz feel while incorporating some latin instrumentation, for example the samba whistle, which pops out of the texture to provide cultural depth to the piece. 
A stand-out song on the album is "Caipora", as its opening feels like cool jazz but with a bit more spice than usual. The piano is very expressive, and leads to the expressive climax of the song when flute and voice come in together, eventually leading to the takeover of the melody by flute in an improvisational flurry. By this point in the song, there are many drums in the background providing a samba-like rhythm underneath the voice and flute. This seamless amalgamation of North American jazz elements and Brazilian samba makes it clear that "American" culture and identity can be a mix of any two, three or more (!!) elements.
The mixing styles of jazz and the Brazilian samba throughout this album help show how the three Americas have distinct qualities, but easily morph together to become one cohesive sound. American culture is capable of the same thing, but cultural integration is often met with more backlash than in music. Although it's very cliche, music really serves as a unifier between cultures, with Elias's album serving as a reminder that Americaness is more than just North America.
Works Cited
The Three Americas. Rec. 19 June 1997. Warner Music, 1997. Music Online: Jazz Music Library Database. Web.