When discussing minstrelsy in class, we continuously mentioned that minstrelsy went on much longer than most people realize or care to mention. In my research I found a theme of disturbing nostalgia surrounding the practice. One example of this nostalgia can be found in poetry.
In W.D. Nesbit's poem published in the Chicago Tribune in 1903, "The Yesterdays of Nations", he states, "Once the trumpet in brazen glee sang at the palace gates; Once the masters of minstrelsy babbled of loves and hates"("The Yesterdays"). This fondness of olden days is evident through Nesbit's language, regarding the performers of this offensive practice as "masters", as if they are people to still be held in high esteem.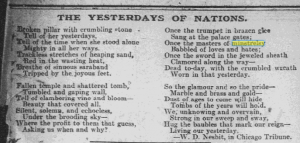 The times that Nesbit's poem reflects so fondly upon can be seen in a second poem. This poem by James Gnocott is "Resignation.- A poem". This poem so casually mentions minstrelsy that it truly reflects the ordinariness of minstrelsy in entertainment and life, stating "Oh! Trust in patience- hoping, trust the Lord, Although unstrung thy harp of joy may be; Yet may it give a most harmonious chord, to bless the minstrel in the minstrelsy"("Resignation").  The fact that this music is being described in a godly way and played by minstrel players is disturbing. The poem is meant to be agreeable in tone yet it's encouraging God to "Bless the minstrel". Followers of the Christian faith are meant to act like God, sending the message that the Christian faith itself condones and promotes these crude caricatures of African Americans.
The sentimental value that is placed on minstrel performances is shocking, and yet believable. I think the reason the poems are so nostalgic in tone is because they reflect a time of music and minstrel performances being one of the only times people were brought together in a light-hearted setting. People were willing to look past the innate wrongness of the way African Americans were portrayed easily because it could be written off as just a song or a joke. This mindset persists in our modern world, as jokes and racial microaggressions are brushed off in the same way. Clearly the effects of minstrelsy are even more long-lasting than we realized.
Works Cited
"Resignation." Freedom's Journal, 31 Aug. 1827, p. 4. Readex: African American Newspapers, infoweb.newsbank.com/apps/readex/doc?p=EANAAA&docref=image/v2:132FB88A16969E1C@EANAAA-132FC8BB76F26BE8@2388600-132FC0E9A3F68330@3-138B6F90A11C0D66@Poetry. Accessed 1 Oct. 2019.
"The Yesterday's of Nations." Savannah Tribune, vol. XVIII, no. 39, 4 July 1903, p. [3]. Readex: African American Newspapers, infoweb.newsbank.com/apps/readex/doc?p=EANAAA&docref=image/v2:11CCCBEC43F62EDE@EANAAA-11D646C6843817E8@2416300-11D646C6A24B9E08@2-11D646C7069D4878@Poetry. Accessed 3 Oct. 2019.