The Manitou Messenger is primarily a modern source, giving us access to information very close to home. Many articles focus in on issues that are affecting students on the hill. One recent such issue being the large donation that was given to the music department last year, allowing international tours to become free for all members of the St. Olaf ensembles. That being, the St. Olaf ensembles that are given the huge privilege of touring every year. Anna Moen's article from last spring brings attention to the fact that there are many more ensembles on this campus that will not receive any benefit from this huge donation, making the members of these ensembles once again feel discounted (Moen). One could argue that the department is spreading funds to where most music majors are placed in ensembles, but on the same hand, many music majors spend at least one year, if not all four, in ensembles other than the St. Olaf Band, Choir and Orchestra.
This unsteady dynamic between the top ensembles and the others can even be seen visually in concerts like the annual Christmas Fest. The St. Olaf Choir is placed at the front of the ensembles, making sure they draw focus. Even on the Christmas Fest website, the St. Choir and St. Olaf Orchestra are listed at the top of the ensembles list,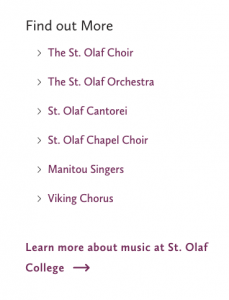 showing they take priority before any other group even though there are more participants in other ensembles within the massed choir, like Chapel Choir.
In the world of music, it is very nearly impossible to not make distinction between individuals and groups based on personal preference or reputation. I don't believe it is any one person's doing that some ensembles are treated more favorably than others, and no student in any ensemble should feel guilty for their placement. However, they all deserve to feel valued, and it seems the department could be doing more to make the majority of the ensembles on this campus feel that way.
Moen, Anna. "Money Donated to Music Department Should Benefit All". Manitou Messenger. St. Olaf College, March 21, 2019. https://www.manitoumessenger.com/2019/money-donated-to-music-department-should-benefit-all/
"The St. Olaf Christmas Festival". St. Olaf College, 2019. https://christmas.stolaf.edu/