After realizing this blog post was due 3 days ago, I decided to search the term "Jazz" in the Manitou Messenger database just to see if there was anything of note.  Lo and behold, I found an advertisement for the Carleton graduate and cornet player Doc Evans and Dixieland Band in the October 23rd, 1959 edition: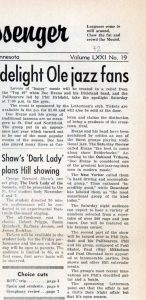 [1]
(The only available records of Doc Evans were at Carleton, so here's a recording I found on YouTube)
The advertisement seemed a little bit strange to me.  By calling his music "traditional" and "happy" jazz, it implies that his music being aesthetically "happier" makes it somewhat significant in the spectrum of jazz.  I would agree that Dixieland jazz is much peppier sounding, but it still seems like a weird emotional signifier in the context of jazz, which isn't always the most jubilant music.  While I am also in Dave Hagedorn's History of Jazz course, I should also point out that this advertisement and performance take place in 1959, which is a rather significant year for jazz in that it was the same year in which Miles Davis' Kind of Blue released (and it is still the best selling jazz album of all time).  Obviously the comparison of Doc Evans to Miles Davis is a bit silly, but I think there is an implication that Doc Evans performs jazz the way it traditionally has been in contrast to Miles Davis and his iconoclastic approach to jazz.  Just for the sake of comparison, here's "So What" from Miles Davis' Kind of Blue.
After learning about how jazz had been commodified throughout the '20s, '30s, and '40s by featuring primarily white jazz artists like Benny Goodman, Glenn Miller, Bix Beiderbecke, and many others for consumers who were also primarily white, it does not seem unsettling to me that Doc Evans would be presented as such.  In fact, even the earliest recordings of jazz were from white groups such as the Original Dixieland Jass Band in 1917.  It's likely that Doc Evans took it upon himself to learn jazz as it was "traditionally" performed and played in the Dixieland/NOLA style of the '20s and '30s because that was easier for him than learning the growing trend of swing and bebop.  Or it could have been the only thing for him to learn in Northfield, Minnesota.
Sources
[1] "Doc Evans brings Dixieland to delight Ole jazz fans." Manitou Messenger, October 23, 1959.