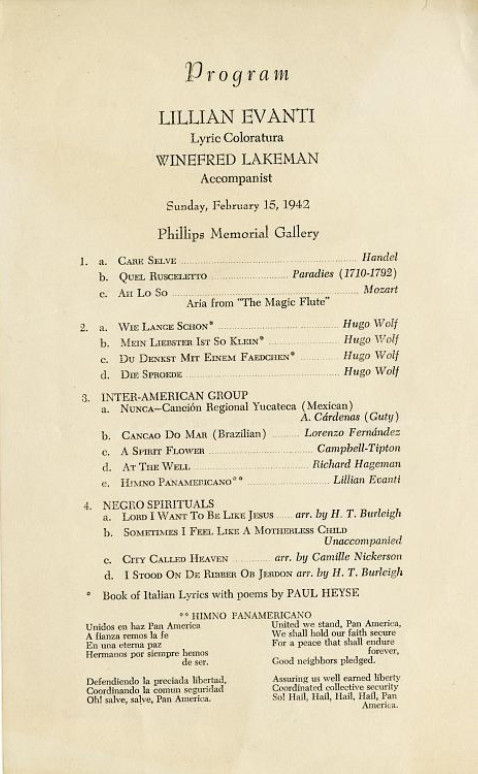 While myself and my group have looked through many data points trying to put together a coherent argument on Lilian Evanti, I found a new source that I thought I would look further into. This program comes from the Phillips Memorial Gallery, which she has performed at on several occasions. This program was "a varied program of Classics, a group by Hugo Wolf, an Inter-American group, and a group of Negro Spirituals," according to the performance's brochure.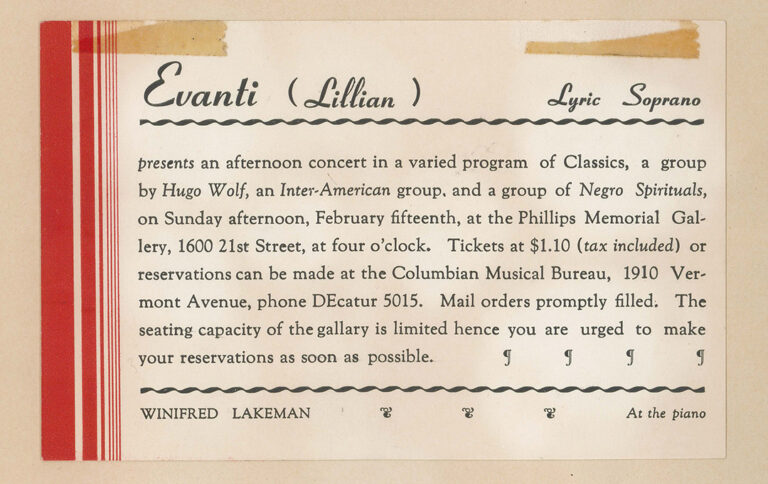 All this to be said, it was a data point I was very excited to share with my group, as we hadn't found it yet. This program provides additional information on Evanti being an activist in her choice of repertoire. Additionally, I found a letter from the staff of the Philips Gallery regarding Lilian Evanti's pay, in which they express their gratitude that she performed for them.
Between the correspondence, the program and the brochure, there is a sizeable amount of information on this performance. Tickets were $1.10, her pay was $100, and people clearly enjoyed the opportunity to listen to Evanti. Her program is incredible, spanning from Handel and Mozart to Hugo Wolf, to her own compositions to spirituals. Along with being impressive, these texts are incredibly meaningful and impactful, many of which are still performed today. Just under 3 years ago, for the St. Olaf Choir's tour, they performed City Called Heaven. It's a text I've performed in the past. Lilian Evanti was truly ahead of her time, and did not shy away from showing off her wide range of styles.
Work Cited
From the Archives: Lillian Evanti – The Experiment Station The Experiment Station (phillipscollection.org)