In June of 1921, Aaron Copland sailed to Paris, France to study music composition at the Palais de Fontainebleau. He gained much knowledge and experience with the help of his instructors Paul Vidal and Nadia Boulanger, as well as meeting new comrades like Harold Clurman. These individuals were formative in the early stages of Copland's composing career and thus left an immense impact on his life and music. During his time in Paris, Copland had a great correspondence with his parents back in the United States.
 Copland in early 1920s
One particularly amazing written account of Copland's early success in Paris is in a letter he wrote to his parents. Merely three months into his stay in Paris, Copland had an opportunity that excited him more than 'any debut in Carnegie Hall ever could.' The following shows a portion of his letter to his parents: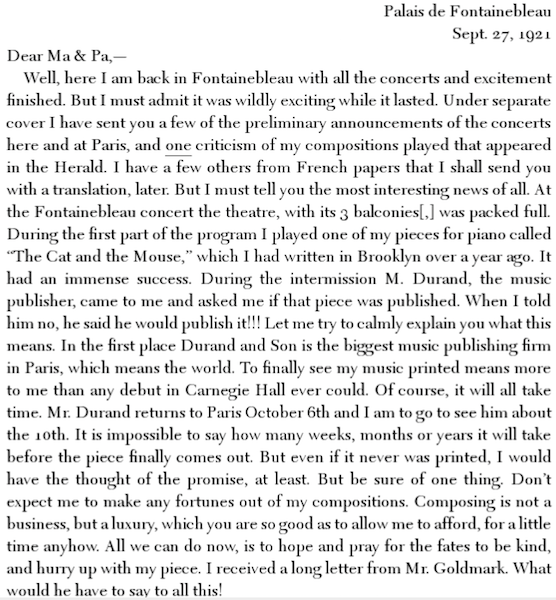 (Selected correspondence of Aaron copland, p. 39)
Copland's gained great success in Paris very early on in his stay. In the next letter to his parents, he writes of another great victory–he sells his first composition to one of the biggest publishing companies in all of Paris. Copland writes to his parents with a delightful voice, comfortable expressing his unadulterated joy with his loved ones. Readers are lucky to be able to get such a glimpse into an intimate exchange of letters from a composer to his parents. Copland has left such a mark on music history in America, and to be able to read more closely at the details of the beginning of his career is unique and very telling of what he was experiencing in the moment.
At the end of his letter about selling his composition, with a charming tone Copland signs off saying, "So, we have a composer in the Copland family, it seems. Who says there are no more miracles. Lovingly, Aaron." (Copland, p. 41)
Bibliography:
Copland, Aaron. Selected Correspondence of Aaron Copland. New Haven, CT, USA: Yale University Press, 2006. Accessed March 23, 2015. ProQuest ebrary.
Image found at:  http://lcweb2.loc.gov/diglib/media/loc.natlib.copland.phot0020/ver01/0001.tif/225