There's little information about composer Dave Reed Jr. available online. And although many records of his compositions exist in Databases, there are few recordings and even fewer quality recordings. What I've learned from my research is that Dave published his sheet music, for which he was the composer and lyricist, from 1894-1921. His father was Dave Reed Sr., a famous minstrel performer. That being said, I still couldn't figure very much out about either of these men.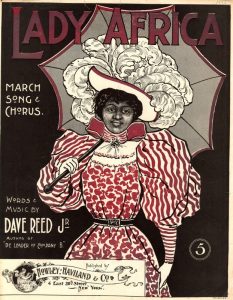 In all of my research, what I was most interested in finding was the context for some of Dave Reed Jr.'s published songs. On the sheet music consortium, I found 3 pieces by Reed that piqued my interest. They were all about women, specifically women of color (two about black women and one about a native American woman). Interestingly, all of these songs describe these women as beautiful, graceful, and even aristocratic. Take a look at these lyrics from "Lady Africa"
"…She is de Queen of color'd high society
They shout Hurrah for Lady Africa
For she's the perfect essence of propriety…"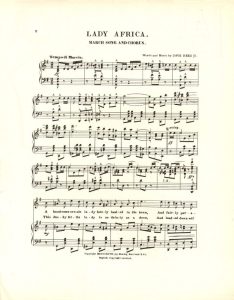 I found myself wondering, are these songs actually celebrating black women? Spoiler alert: I don't know. But in researching and reasoning, I ended with one final thought: Perhaps it doesn't matter. I'll elaborate.
First, I was curious about the race of the composer, since I figured there would be a higher chance for celebrating black women if the composer was a black man. Some of the songs are also written with a black-American dialect. Dave Reed Sr. was part of a group called Bryants Minstrels, who at first glance seem to be a white troupe since the leaders (the Bryants) were white. But with further reading, I learned that they did have at least a few black performers. Additionally, I found a picture of David Reed Sr. wearing blackface, where he looks white, but of course, I can't say that definitively. 
Next, I examined the music in relation to the time period. These songs were all published before 1920, placing them in the minstrel time period, yet there was no evidence that they were ever performed as minstrel songs. But when comparing the music to other music at the time, it is not very different. The instrumental parts all seem similar to a ragtime style, which we know came almost directly from minstrelsy. Furthermore, the subject matter is the same as that in minstrels. The lyrics simply talk about romantic themes and black women: something that doesn't seem out-of-place now but could've been satirical in that time. 
After researching, it seems as though Dave Reed Jr. was not intending to celebrate black women. But without context, it might not matter. These songs talk about black women in high standing, from beautiful lands, who are desirable in many ways. I think it's possible that these songs could be reclaimed today, given that the lyrics could be seen in a positive light.
Citations
Music Division, The New York Public Library. "My Hannah lady, whose black baby is you" New York Public Library Digital Collections. Accessed October 25, 2021. https://digitalcollections.nypl.org/items/510d47df-f04d-a3d9-e040-e00a18064a99
Books and Media, Duke University Library. "Lady Africa" Duke University Library Digital Collections. Accessed October 25, 2021. https://find.library.duke.edu/catalog/DUKE005411564
Arizona State University. "My Kickapoo Queen" Arizona State University Sheet Music Collection. Accessed October 25, 2021.https://hdl.handle.net/2286/R.A.127822
Discography of American Historical Recordings, s.v. "Reed, David," accessed October 25, 2021, https://adp.library.ucsb.edu/names/107887.b0807