Negro Spirituals began as religious songs written by enslaved African people that were usually unaccompanied monophonic songs. One of the most famous of these Negro Spirituals is "Swing Low, Sweet Chariot," which was written by Wallace Willis, a Choctaw freedman in Hugo, Oklahoma in 1840.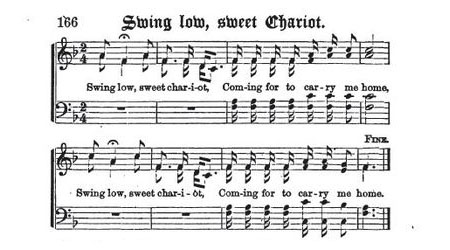 He was inspired by the Red River, located in Mississippi, which reminded him of the Jordan River and of the Prophet Elijah's being taken to heaven by a chariot (2 Kings 2:11). The song also uses lyrics that refer to the Underground Railroad, the network that helped Blacks escape from Southern slavery to freedom in the North.
The Jubilee Singers of Fisk University consisted of nine students under George L. White, the school's treasurer and music director. The group began a U.S. on October 6, 1871 to raise money for the school. On this tour, The Jubilee Singers popularized many Negro Spirituals, including "Swing Low, Sweet Chariot."
A few months into their tour, a review by the Oneida Circular, a newspaper that was "a weekly journal of home, science, and general intelligence" in Western New York praised the singers for their performance.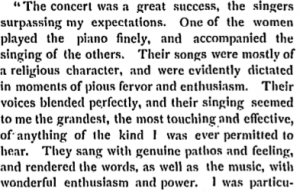 The song regained popularity in the 1960's during the Civil Rights and Folk Revival movements. The same lyrics that made reference to the Underground Railroad were now being used to fight for equal rights and an end to segregation and Jim Crow laws. At the same time, the Folk Revival movement began as a way of bringing back earlier genres of music like Gospel and the Blues. Bridging the two movements together was Joan Baez, a White American folk songwriter, whose personal convictions – peace, social justice, anti-poverty – were reflected in the topical songs that made up a growing portion of her repertoire, to the point that Baez became a symbol for these particular concerns. She gave perhaps one of the most memorable performances of "Swing Low, Sweet Chariot" at the famous Woodstock Festival in 1969.
It's evident that this song has continually been reused and repurposed for the people that connect with it. In the 1870's, it promoted the idea of freedom from slavery. In the 1960's, it promoted civil rights for all. What will it be used for next?
Allen, William Francis, Ware, Charles Pickard, and Garrison, Lucy McKim, eds. "Swing Low, Sweet Chariot." Slave Songs of the United States. Chapel Hill, NC, USA: University of North Carolina Press, 2011. Accessed February 23, 2015. ProQuest ebrary.
H, W. B. "THE JUBILEE SINGERS." Oneida Circular (1871-1876) 9, no. 16 (Apr 15, 1872): 126. http://search.proquest.com/docview/137675405?accountid=351.
Fisk Jubilee Singers Vol. 1 (1909-1911). Recorded January 1, 1997. Document Records, 1997, Streaming Audio. Accessed March 18, 2015. http://search.alexanderstreet.com/view/work/74675.