After playing in the St. Olaf Orchestra's concert last spring which essentially had all works from Antonin Dvorak; including Dvorak's "New World Symphony" and "American Suite." It became clear to me that what we consider "American" music, isn't actually American. We learned from Joseph Horowitz that Dvorak would take bits in pieces from melodies he heard while traveling around America. It should be noted that most "American" music contains melodies, tunes, and isms from many other different cultures. 
In Dvorak's Prophecy, Scholar Joseph Horowitz sheds light on the fact that Dvorak was in search of "homegrown" music. According to Dvorak "homegrown meant music created by Black and Indigenous people." The term "homegrown" can definitely be picked apart to pieces when attempting to determine if Indigenous, Black, or American music is considered to be homegrown or not.
When Dvorak composed these pieces, he had the idea that everything he heard and picked up was essentially American. Although we can acknowledge that most of the tunes he incorporated in his music were from Indigenous people. 
"Dvorak was stirred by the sad fate of the Indian and the pathos of the slave. His empathy found expression in his Symphony From the New World- … It begins with a sorrow song and ends with an Indian dirge. Its most famous tune, later reconstituted as the synthetic spiritual "Goin' Home," memorializes the tragic servitude of Black Americans."
On a similar but a little different note, I think that our education system has failed us in the past. Growing up and hearing music on the radio, on TV, in stores, we've always thought that what we were hearing was American music. In actuality, most of these pop songs we hear have stemmed from African American people. We have been surprisingly ignorant when it comes to the origins of the music we listen to and I think that ought to change. We can complete this circle by coming back to Dvorak. Dvorak composed the "American Suite," in an attempt to capture American music. Before I had any prior knowledge of this piece, I simply thought: Dvorak was in America at the time therefore, the music was American. Oh, how I was wrong, and I imagine I'm not the only one who had thought this way. I hope we can learn and acknowledge our ignorances and move forward with open minds.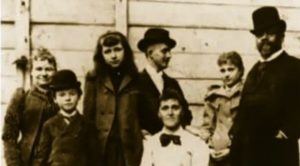 Dvorak in Spillville, Iowa where he spent a summer in search of "American" music.
Citations
Music: Dr. dvorak's new symphony. 1893. The Critic: a Weekly Review of Literature and the Arts (1886-1898). Dec 23, https://www.proquest.com/magazines/music/docview/124901982/se-2 (accessed September 20, 2023).
Horowitz, Joseph. Dvořák's prophecy and the vexed fate of Black Classical Music. New York: W. W. Norton & Company, 2022.
Toll, Martha Anne. "Review | He Saw a 'noble' Future for Black and Indigenous Composers. He Was Wrong." The Washington Post, December 10, 2021. https://www.washingtonpost.com/outlook/he-saw-a-noble-future-for-black-and-indigenous-composers-he-was-wrong/2021/12/08/9705c2f4-2ba1-11ec-985d-3150f7e106b2_story.html.