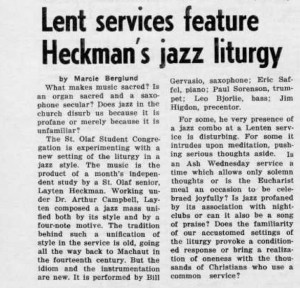 It seems St. Olaf has been hesitant to embrace Jazz as a sound musical genre, especially in regard to liturgical music. In this 1968 article of the Manitou Messenger, Ms. Berglund summarized a student jazz liturgy setting performed in chapel and asks questions that point to Jazz as a potentially profane and intrusive art form for worship. "Is jazz profaned by its association with night-clubs or can it also be a song of praise?"[1]

Contrast this with an article from 1977, when The Preservation Hall Jazz Band visited St. Olaf in what the Manitou Messenger calls the "most enthusiastically received concert at St. Olaf."[2] The Preservation Hall Jazz Band is made up of a pool of musicians that rotate over the years, but was started by Allan and Sandra Jaffe in 1961 New Orleans, who were interested in preserving the traditional jazz style free from commercial imperatives.[3] Becoming famous by touring and recording, Preservation Hall is internationally known and remains one of the popular tourist sites of New Orleans, so of course it was a big deal that they came to our humble little bubble at St. Olaf.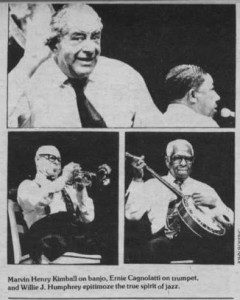 The writer goes on to say that "everybody has heard Dixieland jazz before, but this concert gave us all a chance to see and hear a jazz band doing it the way it was originally done. This style influenced every form of American music since 1900, from Joplin's rags to Chicago's rock." Perhaps due to a lack of curriculum on jazz at St. Olaf at the time, or general lack of scholarship, the writer has a misconception that jazz influenced ragtime, when in reality the syncopated rhythms of ragtime along with the blues style are cited as the origins of jazz. In addition, to assume that the concert of 1977 was a presentation of how jazz was originally done is a pretty bold claim, considering any time a performance claims some kind of authenticity, there are certain details/styles included and excluded. These two examples suggest St. Olaf is not a little bubble, filled with scholarly prowess and immune to the world's ideals. The stereotypes about the origins of jazz and its perceived development as a "profane" style pervade music history as well as St. Olaf history. We can't say St. Olaf, as an academic and music institution, was above these problematic notions about Jazz then, so my question is, has much changed?
[1] Marcie Berglund, "Lent services feature Heckman's jazz liturgy," Manitou Messenger, March 1, 1968.
[2] Mike Stiegler, "Original Jazz Preserved for Olaf Audience," Manitou Messenger, March 4, 1977.
[3]  Grove Dictionary of American Music, 2nd ed, s.v. "Preservation Hall Jazz Band."