Although not perfect, we have come to an era in which the voices of people of color, women, and other marginalized voices have started to become more commonly represented within musical communities. It is easy to attribute this progress to the overall trend of people becoming more open minded. However, we have to remember that this progress rode on the backs of certain individuals with radical ideas. One of these ideas is that of Sylvester Russell, who writes of creating an organization that supports black musicians.
Today, I am examining an article written in the Chicago Defender in 1907 by theater and music critic Sylvester Russell. In this article, he discusses the changes that he would make to the existing association "The Colored Vaudeville Benevolent Association" (or the CYCB).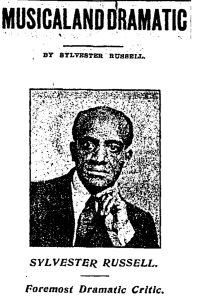 https://www.proquest.com/hnpchicagodefender/docview/493197358/4C46D4B62E3944D4PQ/46?accountid=351  1
He first argues that the name of the organization is "not wisely chosen", as the thinks the inclusion of "vaudeville" gives white people more access to the group, as it would gain attention from white vaudeville managers. He also thinks that the initiation fee of $5 should be reduced to $2 so that the association erases class issues and can include all types of black musicians and actors. He believes the only criterion should be that each member includes "all actors who are making a living as professional entertainers". He also wants to include women in the association. He believes that by having an association that supports black actors and musicians in Chicago, it is possible that Chicago could become the center of arts for Black Americans.
The idea of creating a union of sorts among a group of people is not shocking. However, I think this column by Russell raises an interesting point about the ways in which black performers and managers were well aware of white influence and sabotage. Russell talks about the importance of how the members of this association present themselves. He argues that "The white man is ever on the bright side of natural instinct, and if actors who belong to this organization are not very careful of what they do and say along certain lines, their individual errors will tend to make the body weaker". In other words, he thinks that the members of the organization must be savvy in order to keep the power of this organization between people of color.
Russell gives us a good reminder that progress has only happened because of individuals who have thought meticulously about how to keep power in the hand of POCs, careful to not let white people take it away.
1 SYLVESTER, RUSSELL Sylvester Russell. 1910. "MUSICAL AND DRAMATIC: FOREMOST DRAMATIC CRITIC THIRD SUBJECT THE DEVELOPMENT OF ACTORS. MANAGERS, PLAYWRIGHTS AND COMPOSERS MUSICAL AND DRAMATIC FOURTH AND LAST SUBJECT "THE DUTY OF COLORED ACTOR ORGANIZATIONS."." The Chicago Defender (Big Weekend Edition) (1905-1966), Sep 17, 2. https://www.proquest.com/historical-newspapers/musical-dramatic/docview/493197358/se-2?accountid=351.