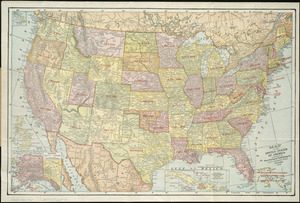 People of color are often treated as as outsiders and struggle to be viewed as fully American, rather than a hyphenated version of it. Much of this is rooted in the fact that it was not until relatively recently that people of color in the United States were even considered citizens. Now, even those who are American citizens constantly have to prove that they are "American" enough. A key characteristic of a "normal" American that is implied but never explicitly stated is that one must be white. Without whiteness, loyalty to the United States as well as true "Americanness" is always questioned.
The assumption that one must be white to be American is visible in the history of black spirituals. In Afro-American Folksongs: A Study in Racial and National Music by Henry Edward Krehbiel, the exclusion of black spirituals within the label of "American folk music" is highlighted. Krehibel explains how many writers acknowledge the "interesting character of the songs, but refuse them the right to be called American" (Krehibel, 1962). This denial of "American" status is continually brought up throughout Krehibel's writing. After all, "they were created in America with American influences and by people who are Americans in the same sense that any other element in our population is American" (Krehibel, 1962). Well, all except one thing: they weren't white.
Creating boundaries to determine who is and is not really American is evident in this article from a newspaper from the Freedom's Journal written in 1828. This was written by a black man educated in the North about his travel experience to Maryland, a state where slavery was still widely present at the time. When describing his experience in Baltimore he states that a black man from the north can never feel at home because:
"when we come to talk of liberty – of the rights of citizenship – of his evidence in a court of justice against his fairer brethren, we cannot but perceive that there is little justice doled out to [a man of colour]"
It does not matter that this man is from the north and educated. He still will not be treated as having the same rights of citizenship as a white man. This history around citizenship and rights of black people contributes to the modern conception of who is "American". The deeply embedded racism in slavery and later in determining citizenship status caused black people to struggle to gain American citizenship. This contributes to the reason why the default race of an American is white. This notion, however, is not only attributed to citizenship status, as even currently, people of color who are American citizens since birth still have to prove that they belong. Maintaining whiteness as the norm prevents people of color from being included in the status of "American" just as black spirituals were excluded from being considered American folk music. This exclusion helps to maintain the unjust treatment of people of color in the United States by pinning them as outsiders and not truly American.
Sources:
Fort Dearborn Publishing Co. Map of the United States of America. 1901. Retrieved from the Digital Public Library of America, http://ark.digitalcommonwealth.org/ark:/50959/3f4636795.
Henry Edward Krehbiel. Afro-American Folksongs: A Study in Racial and National Music. New York: Frederick Ungar Publishing Co., 1962.
"Travelling Scraps." Freedom's Journal (New York, NY), August 15, 1828.