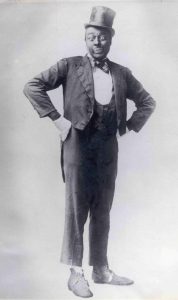 Every popular source about Bert Williams sings his praises. Although he lived (1892-1922) during a time when racial inequality was blatant and accepted, he had an extremely successful career in the entertainment industry. He was the first black man to have a leading role in a film and a leading role on Broadway, the best-selling black recording artist before 1920, and was hailed as one of the greatest comedians of his time. 
Bert Williams was also a black minstrel performer. He and his partner Geroge Walker worked to reclaim minstrelsy and entertainment from the white performers that so often belittled and violated black life and culture through minstrel performances. And judging by his successful career, Williams was able to achieve some degree of reclamation.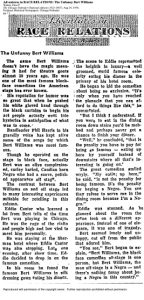 But in his article, titled "The Unfunny Bert Williams," published in the Chicago Defender, one of the nation's largest black newspapers, Enoch Waters juxtaposes this vision of success with a story about Bert Williams. Basically, Eddie Cantor, a white comedian, visits Williams in his room during a dinner party, only to find that Williams is eating dinner alone. Cantor accuses him of being exclusive, but Williams has to explain that he has been refused service in the restaurant downstairs, due to his race. This exposes the paradox in their society; Bert Williams is exceedingly famous among white people, loved by all, yet he still has his rights stolen from him due to the racism of the time. 
This incident happened during Bert Williams lifetime, but Enoch Waters considered it relevant material in 1954 when he published his article. And I believe that it is still relevant today. No matter the value of a person of color, or their "success," they are still subject to the racist thoughts and systems present in our society.
Citations
Waters, Enoc P. "Adventures in RACE RELATIONS: The Unfunny Bert Williams." The Chicago Defender (National Edition) (1921-1967), Aug 14, 1954. https://www.proquest.com/historical-newspapers/adventures-race-relations/docview/492840513/se-2?accountid=351.
"Bert Williams (1874-1922)." Library of Congress, biographies, https://www.loc.gov/item/ihas.200038860/#