I'm sure many of us have read about the influence that minstrel shows have in our daily lives. We've heard about how all of our favorite Disney movies are filled with racist minstrel songs, how our favorite folk songs stem from minstrel shows, and how many of the racist stereotypes people still hold about black folks originate from minstrel shows. I personally experienced a run in with material from a minstrel song that made me think twice about the ways in which we engage with this material.
When looking for music in the Sheet Music Consortium, I looked for music by the famous American (and minstrel song) composer Stephen Foster. The first search result that came up was a piece titled "Under the Willow She's Sleeping".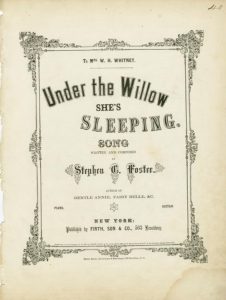 http://webapp1.dlib.indiana.edu/metsnav/inharmony/navigate.do?oid=http://fedora.dlib.indiana.edu/fedora/get/iudl:384485/METADATA
My breath caught in my throat when I saw the title. One of my all time favorite choral songs is an arrangement of this text titled "Under the Willow" by Susan LaBarr. I was introduced to this piece as a sophomore in high school in my state choir. It's a beautiful song, here's a recording of the choir singing this piece:
This is a time when my mind was far detached about the realities of minstrel shows, in fact, I had never heard of them. All I knew is that the text discussed a mother burying her daughter. The conductor never acknowledged the origins of the text, which, when looking back, is troubling. Here are the lyrics:
Under the willow she's laid with care
(Sang a lone mother while weeping,)
Under the willow, with golden hair,
My little one's quietly sleeping.

Fair, fair, with golden hair,
(Sang a lone mother while weeping,)
Fair, fair, with golden hair,
Under the willow she's sleeping.

Under the willow no songs are heard,
Near where my darling lies dreaming;
Nought but the voice of some far-off bird
Where life and its pleasures are beaming.

Under the willow by night and day
Sorrowing ever I ponder;
Free from its shadowy, gloomy ray
Ah! never again can she wander.

Under the willow I breathe a prayer
Longing to linger forever
Near to my angel with golden hair
In a land where there's sorrowing never.
A beautiful text is it not? Not a text you would assume to be involved in a minstrel show no?
But unfortunately this text has origins as a minstrel song. Stephen Foster composed it for the Christy Minstrels. 1
So besides the shock of learning that one of my favorite choral pieces and texts has its origins in a minstrel song, there is also the responsibility of how to handle this information. Firstly, there is the fact that this text is not inherently racist. This gives a nuanced view of the minstrel show as having both racist and non racist text. This paradoxical nature of the minstrel show gives us the challenge of figuring out what to do with a beautiful text such as "Under the Willow". Do we do away with it because of its minstrel origins? Or do we continue using this text with a disclaimer? Personally, I think it is better to grapple with the duality of these texts than to get rid of them completely.
1 https://historicpittsburgh.org/islandora/object/pitt:31735061838995