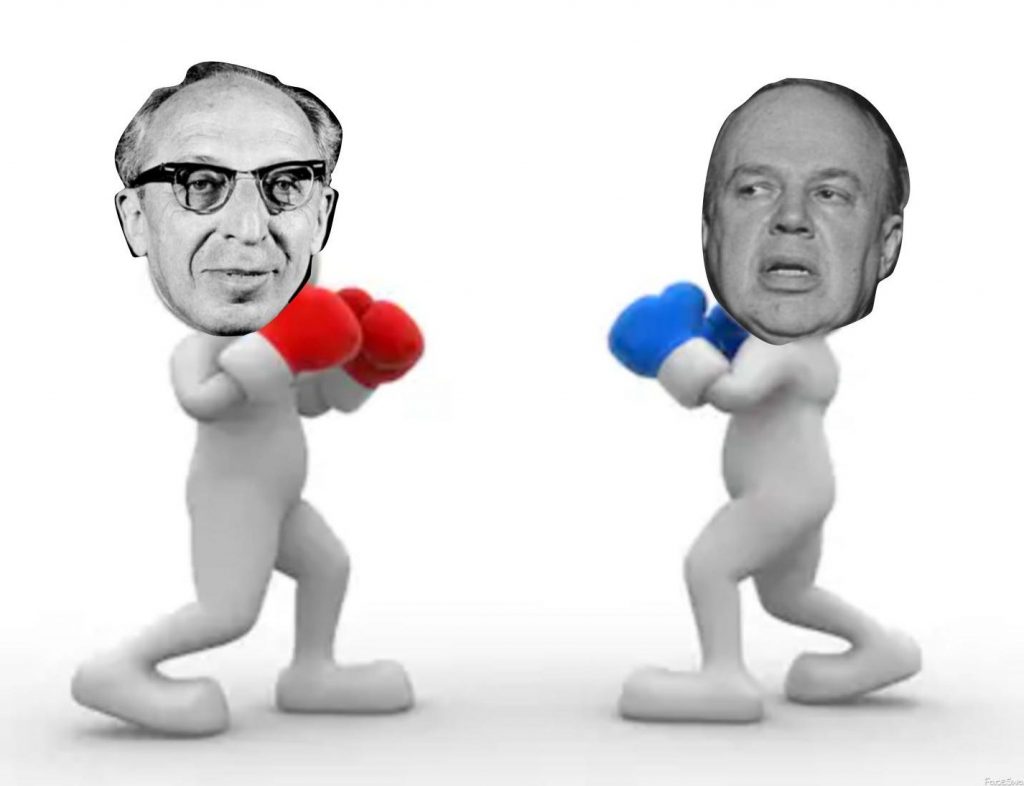 A week in late April 1932 stirred up unexpected controversy between American art music composers and their critics. Yaddo, a five-day conference modeled after European composition festivals, was held to "give leading American composers an opportunity to present their lesser-known works before distinguished audiences."[1] Yet, not a single music critic came to hear the "strange tunes, in which harsh chords rasped out above brooding harmonies."[2] And Aaron Copland, one of the leaders in American music composition in the 1930s, was not about to let this incident go unnoticed.
In a letter to The New York Times on May 8, 1932, he wrote:

Copland's outcry to music critics to take American music seriously prompted Olin Downes to chime in on the discussion. Downes, a music critic for The New York Times, had "considerable influence on musical opinion, although many of his judgments have not stood the test of time."[3] In an article written in response to Copland's letter, Downes wrote: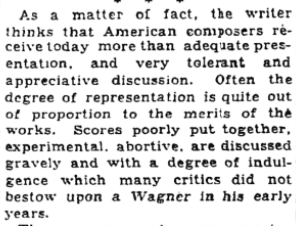 [4]
Apart from degrading the quality of new American works, Downes throws Wagner, perhaps the "most German" of all the German composers, into the ring. His comparison of American composers' treatment versus German composers' treatment reminds me of discussions we've been having in class about the significance of European (mainly German) composers to the identity of American composers. These German "greats" were the cornerstone of the building that is American music. However, following the building analogy, Downes thought Copland and his contemporaries were not building on the grand building that he envisioned American music to be, but rather, they were building a little hut off to the side.
I find myself getting frustrated with Downes' dismissive attitude towards the new American works of the 1930s. Yet, how easily we Americans can still fall into this trap of constructing an identity for American music in 2019. The question for us is, are we going to continue falling into that trap?
Primary Source:
Copland, Aaron. The Selected Correspondence of Aaron Copland. New Haven, CT: Yale University Press, 2006.
Secondary Sources:
[1] "COMPOSERS ASSAIL CRITICS AT YADDO." The New York Times, May 2, 1932. https://timesmachine.nytimes.com/timesmachine/1932/05/02/100728910.html?pageNumber=13.
[2] Ibid.
[3] "Olin Downes." Wikipedia. Wikimedia Foundation, February 5, 2016. https://en.wikipedia.org/wiki/Olin_Downes.
[4] Downes, Olin. "The Daily Review Versus the Weekly Essay – The Native Writer's Opportunities and Merits." The New York Times, May 8, 1932. https://timesmachine.nytimes.com/timesmachine/1932/05/08/issue.html.