Virgil Thomson spent a considerable amount of effort trying to define traits of American music after 1910. I wanted to test his theories by comparing them to patriotic marches because they can be considered unambiguously American. The keyword "America" brought a number of such pieces to my attention, of which I picked three to study. I was interested in these particular pieces because of a number of similarities that immediately caught my eye, so they should not be considered a random selection.
First, some brief introductions: "Come On, America" was published in 1918 with words by Vance Cooke and music by Kenneth Murchison. "America First (Is Our Battle Cry! Tis the Land We Love!"  was published in 1916 lyrics by J. Will Callahan and music by Eddie Gray. Ironically, although published in Chicago this piece was distributed by an Australian company. "America My America"was published in 1917 with words by Ray B Powers and music by Edith Powers. An inscription reads "Dedicated to Elk's Regiment Portland Oregon Lodge." Elk's Lodges are patriotic fraternal organizations, and I foundit timely to come across this note as I have just recently driven past many an Elk's Lodge in my most recent journey through the Midwest.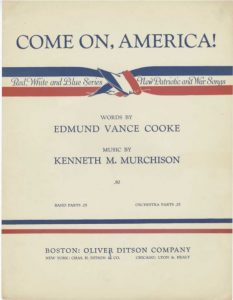 Thomson covers such a wide range of genres that it seems laughable to apply common traits that are specific to American music. He particularly focuses on rhythm, noting that "a very large part of what has been composed in the last forty years assumes the existence… of a steady continuity of eighth-notes, on top of which other metrical patterns, regular and irregular, lead an independent life." (American Musical Traits 19) All three of these pieces certainly fit this trend as they are in 2/4 with the eighth note driving the piano accompaniment. However, none of the pieces have more than a few instances of syncopation, let alone a "large amount" (19).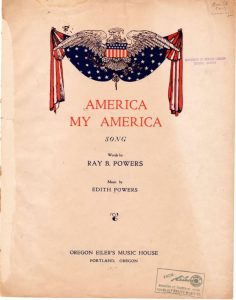 Another trait Thomson presents as "American" is the "non-accelerating crescendo and… the non-retarding diminuendo" (19). After the initial tempo markings of con brio, allegretto con spirito, and marcia respectively there are no subsequent marked tempo changes with the exception of a ritardando before the chorus of "Come on America." In this instance there is indeed no dynamic change marked. Dynamic markings as a whole appear secondary to the marching drive of the eighth note. Crescendos and diminuendos appear only in "America First," and "America My America" has only four dynamic markings with the final already appearing in the third line. Although all this may support Thomson's assertion that "the American… inclines by instinct to keep his rhythm patterns independent of volume patterns" (19), these trends are perhaps due in larger part to the patriotic march sub-genre than their American origins.
The final trait was harder for me to understand, let alone identify in practice. Thomson
speaks to a "phonetic distortion without loss of clarity." I took this to mean that text setting often prioritizes music over the natural rhythm of speech patterns. One example of this in "Come On America" is the quarter-eighth-eighth-half rhythm of the syllables of "A-mer-i-ca" which causes the "a" and "ca" syllables to be emphasized whereas a native English speaker would accent "mer". Besides this, however, there was little unusual text setting and based on my understanding of the term I do not believe any of the three pieces utilize "phonetic distortion" to a large extent.
Obviously, these three pieces are too small of a data sample to make any definite conclusions about the accuracy of Thomson's generalizations of American music, but I did find it to be a useful exercise in thinking through the theories he presented. I chose to undergo this (admittedly arbitrary) project in order to better understand the arguments Thomson lay out, and to that end I achieved my goal.
(Unfortunately, I failed in my noble quest to dig up recordings of these pieces… I guess we will just have to use our imaginations?)
Works Cited
Gray, Eddie and J. Will Callahan. "America First (Is Our Battle Cry! 'Tis the Land We Love)." Chicago: Frank K. Root & Co, 1916. http://purl.dlib.indiana.edu/iudl/lilly/devincent/LL-SDV-94001.
Murchison, Kenneth and Edmund Vance Cooke. "Come On, America!" Red, White and Blue Series: New Patriotic and War Songs. Boston: Oliver Ditson Company, 1918. http://purl.dlib.indiana.edu/iudl/lilly/devincent/LL-SDV-257002.
Powers, Edith and Ray Powers. "America My America." Oregon: Oregon Eiler's Music House, 1917.
http://oregondigital.org/u?/sheetmusic,1957.
Thomson, Virgil. "American Musical Traits." American Music Since 1910. New York: Holt, Rinehart and Winston, 1971.