It's very likely that you know this famous American hymn – it's been performed most famously by both Johnny Cash and Dolly Parton, and seems to be well known today as a traditional Southern gospel tune. However, this piece was in fact composed by one of my ancestors: Joseph Philbrick Webster (1819-1875), who was born in Massachusetts and lived much of his adult life in Wisconsin. Originally a touring singer, JP Webster suffered from a bout of bronchitis that robbed him of his voice. From there, he became the composer of over 1,000 hymns, ballads, and patriotic songs, including "Lorena" and "In the Sweet By and By."
The publications of this song on the Sheet Music Consortium are from several different arrangers. The one I looked at was published and arranged during JP Webster's lifetime, and is seen below. However, there are also several other interesting versions, including an arrangement in four parts as performed by the Kelly and Leon Troupe – upon a little digging, this turns out to have been a highly successful blackface minstrel troupe. Perhaps when minstrelsy became more of a Southern phenomenon, this song went with it, or perhaps it followed the pattern of musical traditions which migrated from the Puritan northeast after Lowell Mason's hymn reforms (Mason was, in fact, one of Webster's main music teachers).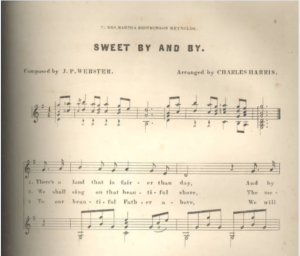 My interest in this topic and song stem mostly from my family's personal connection; however, it amazes me how well it ties into our course topics so far. Aside from the connection to minstrelsy, this song has clear connections to the complex history of Southern gospel and country music, having migrated South from traditional musical origins in the northeastern US.  JP Webster is also one example of a composer who may have been revived in the search for an American musical sound in the 1900s, since many of his songs ("Lorena" in particular) were written during and for the Civil War, and this was one of the musical periods mentioned by Annegret Fauser as a source for tracking American music. This is yet another possibility in explaining the revival of his music, so that it is well-known even today.
This song is merely one personal example of the relevance and complexity of what we have discussed in this course to our musical lives today. Few traditional songs have a clear path through history from their composition to how they exist in the public mind today, and while this is one example in which the composer is very clear, even it has its mysteries and complexities. Knowing the history is not merely interesting on a personal or intellectual level, it lends a great deal to our understanding (or recognition that really we know very little) of American musical history.
Works Cited:
Webster, Joseph Philbrick & Bennett, Fillmore. (1870). Sweet by and by Retrieved October 18, 2019, from https://dc.lib.unc.edu/cdm/ref/collection/sheetmusic/id/33031.
Wikipedia contributors, "Joseph Philbrick Webster," Wikipedia, The Free Encyclopedia, https://en.wikipedia.org/w/index.php?title=Joseph_Philbrick_Webster&oldid=882205755 (accessed October 17, 2019).
Tubb, Benjamin Robert. "The Music Of Joseph Philbrick Webster (1819-1875)." The Music of Joseph Philbrick Webster (1819-1875), Benjamin Robert Tubb, 9 Apr. 1999, www.pdmusic.org/webster.html.
Wisconsin Historical Society, Unknown, Joseph Philbrick Webster House, IM30910. Viewed online at https://www.wisconsinhistory.org/Records/Image/IM30910.