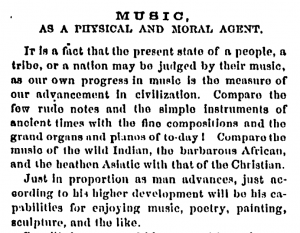 Anyone could read this short passage and recognize that the author is approaching music with a problematic, racist mindset, but I had no idea the undercurrent of "science" propelling these opinions until I dug a little deeper…
The pseudoscience of phrenology was running rampant in mid-19th century society. Racist beliefs and actions were justified through this "science."[1] Phrenologists argued that a person's character, intelligence, and opinions could be deduced from the shape and size of their skull.[2] This was fodder for 19th-century minds to be opposed to whole races and ethnicities, solely based off the external shape of their skulls. Samuel George Morton wrote Crania americana; or, A comparative view of the skulls of various aboriginal nations of North and South America[3] in 1839. Crania americana allowed racism to reign in 19th-century thinking under the guise of science, as the book was published in great quantities and spread across the continent and across the ocean to Europe.[4] Through drawings like the ones below, Morton provided "reasoning" for the acceptability of racism against Native Americans. Phrenology directly influenced how people viewed Native American music and musicians.
Looking back at the first excerpt,[5] it is easy to witness how this undercurrent of phenological thought influenced the cultural norms of the 19th century about racism towards Native Americans. This passage comes from the American Phrenological Journal, a publication by scholars of this pseudoscience. Much to my chagrin, this journal would have held great authority over its original audience, an audience well-accustomed to phrenological thought. American Phrenological Journal deems the music of the "wild Indian" to be lesser, because they believed that a Native American's brain did not physically have the same capacity for music making as a European did. Before even hearing the music, phrenologists had deduced the music to be less advanced than "Christian" music, purely because of the shape of the musicians' skulls. Along with making assumptions about the music before listening to it, the author makes conclusions about the whole people group based off of the music. They say that "it is a fact" that people can be judged by their music, and that this serves as confirmation that white European-descendants are "superior," as organs and pianos are a testament to.
[1]  SciShow. "Victorian Pseudosciences: Brain Personality Maps." YouTube. YouTube, December 1, 2016. Accessed September 14, 2019. https://www.youtube.com/watch?v=iBv1wKinQXw.
[2]  Britannica, The Editors of Encyclopaedia. "Phrenology." Encyclopædia Britannica. Encyclopædia Britannica, inc. Accessed September 16, 2019. https://www.britannica.com/topic/phrenology.
[3]  Morton, Samuel George. Crania Americana, or, A Comparative View of the Skulls of Various Aboriginal Nations of North and South America to Which Is Prefixed an Essay on the Varieties of the Human Species. Philadelphia: J. Dobson, 1839.
[4]  "Skulls in Print: Scientific Racism in the Transatlantic World." University of Cambridge, March 19, 2014. Accessed September 13, 2019. https://www.cam.ac.uk/research/news/skulls-in-print-scientific-racism-in-the-transatlantic-world.
[5]  "MUSIC, AS A PHYSICAL AND MORAL AGENT.: MYSTERIES OF MUSIC. 1. MUSIC AS A PHYSICAL AGENT. 2. MUSIC AS A MORAL AGENT. 3. MUSIC AS A COMPLEX AGENT. MUSIC AS A CIVILIZER." American Phrenological Journal 43, no. 4 (April 1866). https://search.proquest.com/docview/137924894?accountid=351.