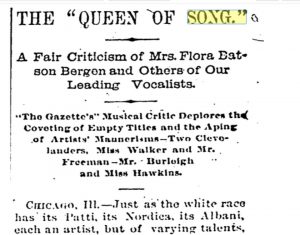 In an article published in the Cleveland Gazette on November 4th, 1893, Walter B. Hayson provides an enthusiastic endorsement of the "company of remarkable songstresses" and other talented musicians among the Black population.1 He claims that "just as the white race has its Patti, its Nordica, its Albani", so are there similarly talented Black artists, and sets out to provide examples of this talent.
Hayson laments the "coveting of empty titles" and the trend of "purposely [aping] the conventionalities in singing of a known artist", describing such behavior as "groveling and distracting" and praising those singers who do not fall into this trap. He provides a detailed critique of the talents of several Black male and female singers, applauding both good technical performance and "naturalness in stage presence" equally while criticizing poor execution and musical selections. He emphasizes that many of these performers are yet young while praising their talents, creating a hopeful tone for the future of Black musicianship.
However, this hope betrays bias. Hayson was a celebrated educator, music critic, and activist who was later a founding member of the American Negro Academy.2 This highly elite institution sought to bring together Black leaders in various fields with the aim of "the promotion of literature, science, and art; the culture of intellectual taste; the fostering of higher education; the publication of scholarly work; the defense of the Negro against vicious assaults".3 This reflected the concept of the "Talented Tenth" which was espoused by W.E.B. DuBois, which held that the most highly educated and skilled Black people would be able to uplift all Black people through their achievements.4 Hayson later publicly responded to Antonín Dvořák's support of Black music, provoking a wave of backlash against the idea of Black music being originally Black.5 This in turn prompted the work of Krehbiel and Jackson that we have analyzed.6
This ideology is present in Hayson's article, which seeks not only to give a summary and review of the most talented Black musicians of the time, but also to claim ownership of these artists by the Black population at large. He repeatedly refers to "our young singers" in "our midst", establishing a sense that these artists represent all Black people in some way.1 He also says of H.T. Burleigh that "the best wishes of us all accompany him in his new work", deepening this impression and asserting that the "best wishes" of all Black people are aligned in wanting these young artists to find success. Burleigh in fact found greater musical success after the World's Fair in which he was performing, and eventually became an activist in his own right.5 In optimistically profiling the promising young Black talent of the time, Hayson reveals the hope that their success could be used as a tool to improve the situation of Black people in America. While this hope is innocent in itself, it prescribes a specific model for success for Black people as individuals and as a group: becoming part of the Talented Tenth meant subscribing to Western ideas of correctness or success in music and other spheres, and their success meant that these values applied in turn to all Black people.
References:
1 "The 'Queen Of Song.' A Fair Criticism of Mrs. Flora Batson Bergen and Others of." Cleveland Gazette (Cleveland, Ohio), November 4, 1893: 1. Readex: African American Newspapers. https://infoweb.newsbank.com/apps/readex/doc?p=EANAAA&docref=image/v2%3A12B716FE88B82998%40EANAAA-12C2BA16C77495A8%402412772-12C106455169BF98%400-12DB0D86AB1C7020%40The%2B%2522Queen%2BOf%2BSong.%2522%2BA%2BFair%2BCriticism%2Bof%2BMrs.%2BFlora%2BBatson%2BBergen%2Band%2BOthers%2Bof.
2 Moon, Fletcher F. "American Negro Academy (est. 1897)." In Freedom Facts and Firsts: 400 Years of the African American Civil Rights Experience, by Jessica Carney Smith, and Linda T. Wynn. Visible Ink Press, 2009. https://ezproxy.stolaf.edu/login?url=https://search.credoreference.com/content/entry/vipfff/american_negro_academy_est_1897/0?institutionId=4959
3 Britannica, T. Editors of Encyclopaedia. "American Negro Academy." Encyclopedia Britannica, August 28, 2014. https://www.britannica.com/topic/American-Negro-Academy.
4 Britannica, T. Editors of Encyclopaedia. "Talented Tenth." Encyclopedia Britannica, May 23, 2016. https://www.britannica.com/topic/Talented-Tenth.
5 Snyder, Jean E. Essay. In Harry T. Burleigh: From the Spiritual to the Harlem Renaissance, 102–11. Champaign, IL: University of Illinois Press, 2021.
6 Henry Krehbiel, Afro-American Folksongs: A Study in Racial and National Music (1914), 11-28; George Pullen Jackson, White and Negro Spirituals (1943) 265-268 and 278-289.