Woody Guthrie was a folk song singer and writer known for his honest and captivating works. Guthrie is considered to be one of the most influential people in the folk genre. He collaborated artists like Pete Seeger, Jack Elliot, Alan Lomax, Lead Belly etc.  He was known for his headstrong views about the world and in particular how he could share his views through music. He was very much interested in the idea of representing folk music as a "democratic force" and advocated for its recognition and appreciation over pop music and other genres.
In his letter to Lomax and Seeger, Guthrie's political and social views on folk music overwhelmingly permeate through his writing. This sample is taken from Judith Tick's Made in the USA: A Documentary Companion.
"Every pop song sings down into your brain and it asks your brain to quit its very thinking…What they see wrong with the world and how to fix it up by hard work, hard fight, and hard sweat, long visioning and tall talking, mixed in with a hatful of salty sweating, good funny joshing, kidding, topping and friendly competition in the affairs of work, love, etc., etc." ~Woody Guthrie
It was Guthrie's romantic idealism of democracy and his passionate advocacy for the American people that made him so appealing. Because Guthrie was so invested in the folk tradition, I decided to explore just how influential he was in folk music. Guthrie worked and sang with different people, but also composed many songs in the folk tradition.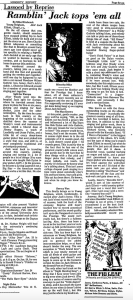 Guthrie influenced many artists in his career including Ramblin' Jack Elliot. In the January 1969 issue of The Minority Report, the newspaper article "Ramblin' Jack tops 'em all" by Mike Hitchcock praises the album Young Brigham. Hitchcock periodically mentions Guthrie throughout his article portraying him as an influential, mentor-like figure to Elliot.
"At the beginning of the sixties, he had distilled down the essence of Woody's vocal and instrumental style, added a liberal dose of Jimmy Rodgers, a touch of Leadbelly and Jesse Fuller, and a little bit of every down-home guitar picker that ever picked into a style that was, and still is, at once completely traditional and yet uniquely personal" (Hitchcock,7).
Elliot's music is typically categorized as country yet Guthrie's style and music unexpectedly influenced not only "traditional" folk, but also a popular county/folk artist.
Another unexpected way in which Guthrie exerted influence in American music was though his song writing. One of his songs, So Long, was performed by Big Joe Turner, a soul jazz and blues artist. Though Guthrie and Turner did not collaborate, Guthrie's songs clearly found their way into the world of jazz and blues. How can we explain the fact that a folk artist was so influential in not only traditional folk music, but also in other genres that are not as outwardly similar to folk? One way to explain this connection is to consider the very nature of folk music itself.  Because Guthrie was influential in jazz, blues, country and other folk genres, it shows that folk music was always changing and was never confined to specific musical idioms or attitudes that are associated with other genres. Folk music always varies whether that is geographically, over time, or through different styles of music.  It is an inherently changing tradition because of its communal aspect.  Both folk and jazz reflect an honest human experience, and for Guthrie, the ideal folk song did just that.
Works Cited:
Hitchcock, Mike. "Ramblin' Jack Elliot Tops 'Em All." The Minority Report, 1 Jan. 1969, p. 7.
James Lincoln Collier. "Jazz (i)." The New Grove Dictionary of Jazz, 2nd ed.. Grove Music Online. Oxford Music Online. Oxford University Press, accessed October 7, 2017, http://www.oxfordmusiconline.com/subscriber/article/grove/music/J223800.
Joe Turner: Have No Fear, Joe Turner Is Here. Recorded January 1, 1996. Pablo, 1996, Streaming Audio. Accessed October 10, 2017. http://search.alexanderstreet.com/view/work/bibliographic.
Stetson Kennedy and Ronald D. Cohen. "Guthrie, Woody." Grove Music Online. Oxford Music Online. Oxford University Press, accessed October 7, 2017, http://www.oxfordmusiconline.com/subscriber/article/grove/music/A2241373.
Tick, Judith, and Beaudoin, Paul, eds. Music in the USA : A Documentary Companion. Cary: Oxford University Press, USA, 2008. Accessed October 7, 2017. ProQuest Ebook Central.