In the late 1950s and 1960s, as the Civil Rights Movement took precedence in American politics, critics began to view music through the lens of race. Jazz was a frequent subject of scrutiny because of its history as an African American art form commonly performed by white musicians. Until this era, jazz was considered a "colorblind" art form, but as racial tensions rose, it became impossible to ignore the racial implications that came with the performance of jazz.1
Almena Lomax, a civil rights activist and journalist for the African American newspaper, the Los Angeles Tribune, criticizes Ella Fitzgerald for her acquiescent attitude toward white producers in a 1960 article. Lomax asks, "how come once she is on it [a television program] and the magic of her name has been used to snare viewers, she is given the lesser roles . . . and why does she continue to sit still for such patronizing treatment?" According to Lomax, Fitzgerald had the ideal voice to sing Gershwin, but at a recent all-Gershwin program, Fitzgerald was relegated to sing "only the 'virtuoso' numbers–in the tradition of the Negro showing his 'extra heel,' or his sixth finger, or his tail, or whatever it is that stamps him as something else but human." Lomax goes on to compare Fitzgerald's rendition of "How High the Moon" to such Uncle Tom-like behavior:2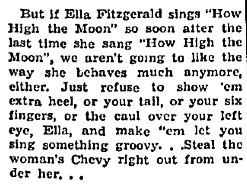 We cannot be sure of what rendition Lomax is referring to as the "last time" Fitzgerald sang "How High the Moon." Fitzgerald first recorded the song in 1956 on her album Lullabies of Birdland, and another performance of it was recorded in 1958 at Mister Kelly's, but the recording was not released until 2007. So Lomax is either referring to the Lullabies of Birdland version or a performance she heard live. She is not, however, referring to the famous Ella in Berlin: Mack the Knife recording of "How High the Moon" because that concert did not occur until February 13, 1960, about a month after this article was published.
Assuming Lomax was using the Lullabies of Birdland recording as her reference, I am wondering if Lomax may have had different thoughts about the implications of "How High the Moon" after hearing the Ella in Berlin recording. You can hear the transformation Fitzgerald's interpretation underwent between 1956 and 1960 by listening to the links below:
Lullabies of Birdland (1956)3
Ella in Berlin (1960)4 
In the earlier recording (which Lomax may have been referring to), one could feasibly make the argument that Fitzgerald's scatting merely serves to please white audiences. She begins the song politely, moves into the expected scatting section using her bag of tricks, and then closes nicely in a little over three minutes. By contrast, the later recording carries a markedly more defiant tone. Taking nearly seven minutes, but a much faster tempo, Fitzgerald sings with an almost frightening virtuosity. As she transitions into the scatting section, her voice becomes brassy and her tone almost exasperated on the words:
We're singing it
Because you ask for it
So we're swinging it just for you
As her scatting progresses, she sings, "I guess these people wonder what I'm singing" but continues to scat at the same pace, showing that she does not care if the audience keeps up or not. Her scat includes low, exasperated sounds that make it clear she is not singing to please. She also quotes a number of songs, including "Ornithology" by saxophonist Charlie Parker, aligning herself with the bebop direction of jazz. Toward the end of the song, she seems to put on an affected operatic tone that arpeggiates the tune excessively, followed by a low "hng" sound imitating the sound of an instrument. She moves so quickly through these polarized styles that the effect is shocking more than it is impressive or pleasing to the ear.
So while Lomax is wise to be skeptical of Fitzgerald's exclusive use of virtuosity in comparison to white performers, she could not yet know that Fitzgerald would reclaim this virtuosic style for herself in Berlin. On a final note, in is significant to consider the history of the song "How High the Moon." Written by white broadway songwriters Lewis and Hamilton and first popularized by white singing duo Les Paul and Mary Ford, "How High the Moon" was in fact transformed into its scatting glory by Ella Fitzgerald. Rather than letting the song own her, she owned it.
Footnotes
1 Monson, Ingrid T. Freedom Sounds: Civil Rights Call out to Jazz and Africa. Oxford: Oxford University Press, 2007.
2 Lomax, Almena. "Notes for Showfolks," Los Angeles Tribune (Los Angeles, CA), Aug. 1, 1960, accessed April 7, 2015 http://phw02.newsbank.com/cache/ean/fullsize/pl_004062015_2134_46699_913.pdf
3 Fitzgerald, Ella, Louis Jordan, Louis Armstrong, Sy Oliver, Gordon Jenkins, Benny Carter, André Previn, and Bob Haggart, performers. Ella: The Legendary Decca Recordings. Recorded August 29, 1995. GRP Records, 1995, Streaming Audio. Accessed April 7, 2015. http://search.alexanderstreet.com/view/work/715022. 
4 Fitzgerald, Ella, Paul Smith, Jim Hall, Wilfred Middlebrooks, and Gus Johnson, performers. The Complete Ella In Berlin: Mack The Knife. Recorded August 17, 1993. GRP Records, 1993, Streaming Audio. Accessed April 7, 2015. http://search.alexanderstreet.com/view/work/691638.