For this week's blog post, I found an article in The Chicago Defender that I think is interesting and representative of the people of that time. I did not know what I wanted to talk about, so I drew a blank and searched up "classical music". The source I am showing today is about an African American composer and teacher who was talented, successful and hardworking. However, his story, and a lot of other musicians from marginalized communities, are forgotten by the white supremacist history. 
The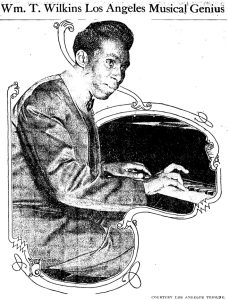 article introduces the reader to William Wilkins, a young Afro-American pianist and composer. The title of this article is William Wilkins Musical Genius and His Pupils, and it was published on November 14, 1914 on The Chicago Defender (obviously). What I find really eye-catching is the picture of the musician on top of the page. It is a photo of Wilkins playing the piano and it was delicately cut out. There are also decorative lines drawn on the sides, further embellishing his picture. In this article, Wilkins is described as a successful teacher, whose "pupil's talent surprises musicians", and some of them have only received training from him for a few months. The article also reported some of his life stories. Wilkins did not have the best upbringing, and the first time he has played a piano in front of an audience is because of his gardener job. Even when he was older, he still needed money to publish his compositions. However, he was still hard working and would practice "from three to seven hours daily." This article shows Wilkins' life in a positive and uplifting way, which is rarely seen in that era. 
I wanted to hear some of his compositions, so I did a quick google search. However, the person who came up was a white American politician. I tried searching for the keyword "william wilkins composer," but it still did not work. I felt a sense of helplessness at that moment because his legacies should be celebrated more and it shouldn't have taken any deep dive to know about him and his stories. However, I also felt power and pride, because his experiences were published in this African American newspaper, where his people supported him and were proud of him. Maybe there will be a new day, where stories won't be forgotten.
Works Cited
"WILLIAM WILKINS MUSICAL GENIUS AND HIS PUPILS: AFRO-AMERICAN PIANIST AND COMPOSER OF LOS ANGELES ASTONISHES MUSICAL WORLD BY HIS COMPOSITIONS AND MARVELOUS PLAYING–APPEARS BEFORE NOTED PEOPLE SUCCESSFUL AS TEACHER PUPILS' TALENT SURPRISES MUSICIANS AT RECENT RECITAL–REMARKABLE STORY OF POOR YOUNG MAN WHO HAS NO MONEY TO PUBLISH HIS WORKS WM. T. WILKINS LOS ANGELES MUSICAL GENIUS." 1914.The Chicago Defender (Big Weekend Edition) (1905-1966), Nov 14, 4. https://www.proquest.com/historical-newspapers/william-wilkins-musical-genius-his-pupils/docview/493270038/se-2?accountid=351.