Currently, there have been over 1000 children's graves recovered at the sites of Indian Residential Schools in Canada. These schools were an assimilation tactic used by both the United States and Canada from the 1880s-1980s and were the site of horrific abuse and tragedy.
The curriculum for these schools in the US was ascribed by the book Tentative Course of Study for United States Indian Schools, published in 1915 by the US government's office of Indian Affairs. In every grade, the children were made to study music. There's a section about the study of music, and the way in which the curriculum is written helps to highlight the ambivalence of the US government to the native communities.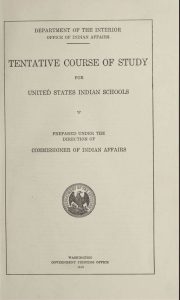 The beginning of the second paragraph reads, "The first requirement for musical training in the schoolroom is to permit the pupils to only hear good music." I found this particularly interesting, because, as we know, it's almost impossible to label music as "good music." This may be implying that native music is bad, but the text never says that outright. But what it does go on to mention is that singing should always be done with a "good, smooth, sweet, light, and pure tone." This is important to note because a pure tone (in the western sense) is not something that is highly valued in Native American music. In many native songs, the vocal quality is more raw and focused, as can be heard in this recording of "War Dance Song," music of the Plains Indians.
There's also a strong focus on drilling intervals and sight singing. We know from countless charts and attempts to measure native intervals that our scales are not the same, so intervals and sight singing must have been extremely challenging for these children. There's also a mention of music "stories," where the teacher would be expected to give information about the history of Mozart and Beethoven. This is especially disheartening, given how we know that many native tribes used song and dance to tell their own stories. 
In all of this writing, there's no mention of native culture or references to these children being from native tribes. It really seems as if the US government was trying to create a blank slate for these children, not talking about them as "less than" or being outright racist. But by erasing their history, the authors of this book are contributing to the violence enacted against them. These children entered these schools against their will, bringing with them the extreme trauma of being stolen from their homes and forced into a new environment. Erasing all aspects of their history is cultural genocide, and definitely made it easier to ignore the atrocities enacted by the authorities in these schools.
Citiations
Office of Indian Affairs. "Tentative Course of Study for United States Indian Schools." Accessed November 1, 2021. https://www.aihc.amdigital.co.uk/Documents/Images/Ayer_386_U5_1915/61.
Young, Robin, and Camila Beiner. "Indigenous Kids' Bodies Recovered – Not Discovered, Says Canada's Assembly of First Nations Chief." WBUR, July 20, 2021. https://www.wbur.org/hereandnow/2021/07/20/canada-indigenous-schools.