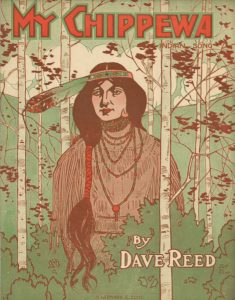 In my own independent research for our culminating semester project, I've been exploring Indigenous song collection in the United States at the turn of the twentieth century. So, with my exploration of the Sheet Music Consortium this week, I wanted to see what sheet music could tell me about this particular ethnographic practice. What is particularly challenging in my own research in Indigenous song collection is the tension between Indigenous musical practice and ethnographers like Frances Densmore who recorded songs, through both audio recordings and written scores. Though written scores, especially like those Densmore published in her bulletins (like Chippewa Music)  for the Bureau of American Ethnology, can provide insight into Densmore's experience with Indigenous music, there are still questions as to how accurately they represent concrete, traditional musical practice.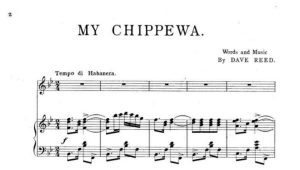 Though not representative of legitimate Indigenous music, I found a very interesting score for a piece of music called "My Chippewa Indian Song," written by Dave Reed from 1907.  This song was written in the midst of Frances Densmore's career and contains a pretty interesting representation of, ostensibly, Indigenous women. Looking at the score, one of the first indicators that this song takes a primitive and 'othered' approach to describing Indigenous life is the tempo marking "Tempo di Habanera." Historically, the habanera has been used in music, like in Georges Bizet's "Carmen " to point towards someone who does not fit within the expectations of contemporary society. In "Carmen," the habanera is of a provocative nature and speaks to the dramatic and, in many ways, uncontrollable nature of love. 
It seems as though the habanera functions in a similar way in the context of Reed's song. Reed's lyrics narrate the experience of a man, assumedly a settler or colonizer, who wins a bride at the end of a battle. The chorus reads:
Chippewa, pretty copper colored Indian squaw

I love you more and more

By the great moon I swear to ever adore you. 

Fly with me

Where the mountain eagles wildly soar, 

And say you'll always be 

My Chippewa.
Ultimately, the art and music of Reed's score point towards a characterization of Indigenous people that is inaccurate, but indicative of a larger characterization of Indigenous peoples in general. Though Densmore's work is not directly related to this score, I think it highlights important considerations of how Indigenous peoples are represented historically, and how work like that of Densmore's impacts certain presentations of those same individuals. 
Works Cited
Reed, Dave. "My Chippewa." IN Harmony: Sheet Music from Indiana . Indiana University, October 10, 2011. http://webapp1.dlib.indiana.edu/inharmony/detail.do?action=detail&fullItemID=%2Flilly%2Fdevincent%2FLL-SDV-083014.