Welcome back to another installment of everyone's favorite series Cohen Quest. This week, we're diving deep into Cohen's early years, his family, and the beginnings of his musical career. Who knows what we'll find out about our guy!
Based on census records, a draft registration card, and various indexes, we know that Cecil Cohen was born on April 27, 1894 in Chicago, Illinois, and lived there for the first 10 years of his life with his parents John and Flora. After his father died in 1906 he and his mother moved in with his cousin Julia where he stayed until he left to attend Fisk University and Oberlin College. I know, that's a lot of hyperlinks. What I'm most interested in, however, are the multiple announcements and advertisements for a recital given by a Miss Maude J Roberts, "Chicago's sweetest soprano singer".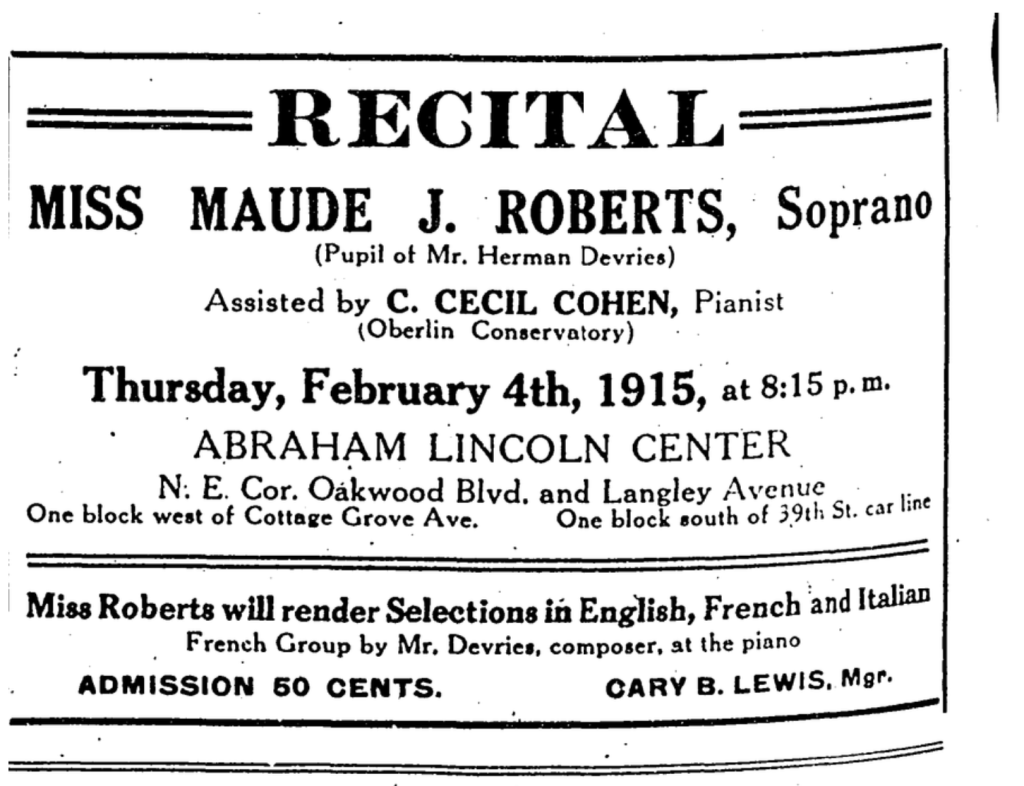 Chicago's soprano song bird Miss Maude J. Roberts in recital at 8:15 pm on February 4, 1915, at the Abraham Lincoln Center in Chicago (now the Carruthers Center).
Tons of hype was generated for this particular concert that was early on in both Cohen and Roberts' careers; of course, the hype was relegated to the local African-American newspapers The Broad Axe, The Chicago Defender, and The Indianapolis Freeman. Sylvester Russell, a music critic for The Freeman, had some harsh words for the young performers, although admittedly it's difficult to parse out the early 1900s syntax and tone. He writes,"[Cohen] has a good technic but the warmth of his artistic temperament was distracted by nervousness"; I would be nervous too, if I was playing for a large portion of my community at a major center of social and artistic life.
It might be worthy to note that each composer represented on the recital program was white and, besides Amy Beach, a European man. At a time when blackface minstrelsy was still embarrassingly popular, black classical musicians were still performing music by white composers.1 It seems as though it wasn't until composers like HT Burleigh and Florence Price came along that African-American Art Song started coalescing as a distinct genre of classical art music, paving the way for people like Cecil Cohen to produce their own music that stays within the style, or pushes on the boundaries.
1 "Minstrel Songs," Library of Congress, https://www.loc.gov/collections/songs-of-america/articles-and-essays/musical-styles/popular-songs-of-the-day/minstrel-songs/.