Upon approaching research for this week's blog post, I stumbled across this image in the Library of Congress' digital archive of images. In the name of the thirst for knowledge, I looked for further images; maybe one that was a more readily used piece of music, or maybe a log of a certain event that might point me towards the cultural events of a given time period. Though educational and truly interesting, I kept remembering the painting of the happy black fiddler and the happy white family and the happy children dancing happily.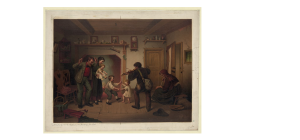 image link: https://www.loc.gov/item/98516820/
The picture's description as it states in the Library of Congress' web archive is as follows:
Print shows an African American man playing fiddle and family dancing. It resembles, but is an Americanized variation of, Auguste Dircks (1806-1881) "Dancing to the fiddle" now in the Josef Mensing Gallery, Hamm-Rhynern, Germany. 
The reading of Eileen Southern jumped to the front of my mind. Her reading explores the means of musical practices in the the South during the years of slavery, and the ways that black musicians were often times used as entertainment for white slave owners. With that knowledge, I began to consider the circumstances of this image's creation, as I was very taken aback by the painting's lighthearted nature. Certainly a painting depicting a slave and white family happily coexisting to the credit of some fire fiddle music should have been painted by a white person, someone with a stake to try and "paint" the history of black Americans playing music in servitude in a far more positive light. 
Not much is known about August Dircks other than the information that he was German-born and lived from 1806-1871. With the knowledge that this painting was not American born, my viewing of it was altered slightly. Though it is important to mention the African diaspora was not exclusive to the United States, knowing this painting came from a mind outside of the Antebellum South shifted my focus. My attention went toward the black fiddler in the center of the painting, the only character painted who does not have attention paid to his expression. Rather his face is obscured by the fiddle he is being forced to play, looking downward as a slave player like him would likely be privy to not making mistakes when performing for his oppressors. Obscured, ignored, relegated to the painting's source of joy without the slightest mention of his experience or attitude, this man fades into ambiguity. 
I think that this painting is actually quite interesting, as the experience that I had dissecting its contents is likely the desired experience for Dircks. As a white person in America, the circumstances of my upbringing have predisposed me to ignore the experiences of minority individuals. My white eye went directly to the white family having a good bit of Southern fun, and not the enslaved black man, quite literally playing for his life. This realization is the painting's purpose, a mirror image towards the viewer's worldview. 
I don't know if I did this assignment entirely correctly, but I just had an interesting experience researching this image and was reminded that music research can be flawed as well.
Duval & Hunter, and James Fuller Queen. Power of music / chromo. of Duval & Hunter, Philadelphia ; Jas. F. Queen after A. Dircks. New York: published by A. & C. Kaufmann. Photograph. Retrieved from the Library of Congress, <www.loc.gov/item/98516820/>.