While scrolling through the Sheet Music Consortium database I started by searching by certain keywords which grew increasingly absurd, although I started with reasonable concepts I quickly found myself only looking at sheet music only written about frog romances. It seemed that if you found the right topic, there could be 50-60 pieces on something as specific as songs about owls that were symbols for men who liked to stay out late at night.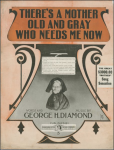 One such treasure trove is songs about mothers including amazing titles such as "That Wonderful Mother of Mine," "Every Day is Mother's Day to a Mother," "Dreaming of Mother and my Sweet Home," "Cheer up, Mother," "There's No One who Loves you Like Mother," and my personal favorite, "The Little Grey Mother who Waits All Alone." I told my own mother about what I found which garnered this guilt-inducing response.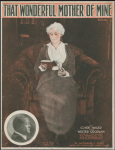 So where do all of these songs about mothers' come from? They are all mostly published between 1911-1920 and follow similar trends about a child leaving home to the dismay of the Long Suffering Mother. The sheer volume of such similar songs is not a coincidence, this extremely specific genre of sheet music comes from the Tin Pan Alley era of songwriting which Robert W. Randall1 explains as  "Music publishers and composers alike operated in a world where success, measured by profit, hinged on their ability to understand through emotional cognition the yearnings of their audiences."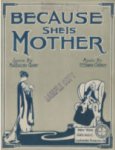 The marketplace of music for these creators was not purely about creating music for an existing audience, but creating an audience out of music that they could create. Randall continues "But more than merely promoting songs, music publishers produced them on a factory scale, generating vast quantities of theme-driven songs that would enable them to both test and shape markets for tunes that would become "hits."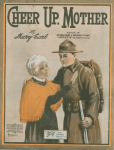 The historical era for the rise of songs about not forgetting mothers would make more sense within the context of WW1, but a fair number of these pieces were published far before any military involvement. The significance of this music appears to be more closely tied with national allegiance and loyalty, and undoubtedly a little bit of guilt.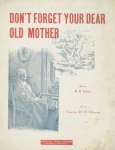 In "Never Forget Your Dear Mother and Her Prayer"2 the lyrics echo this sentiment.
"Never forget your mother tho far away you may roam, Always remember she's praying, For you to come back home, Temptations round you will gather, Face them with courage and care, Never forget your dear mother and her prayer"
The creation of Mother's Day in 19143 by Woodrow Wilson is likely closely tied to this era of music, establishing a commercial holiday that has since been tied to lavish displays of wealth and public adoration. While music written specifically about missing your mom is a fun example of how Tin Pan Alley created concepts of identity based around  profits, it is crucial to examine how thin the lines are between commodity and sentiment if that line exists at all.