In 1995, a new Disney princess was introduced: one that did not follow the typical "damsel in distress." This princess may have not been a damsel in distress, but she certainly sparked new conversations regarding a people overlooked and often forgotten, considered vanished, even.
This princess is Pocahontas, and the people are Native Americans.
The Disney producers' goal in creating Pocahontas was to "address the rise in public criticism from various ethnic groups over racial stereotyping in their most recent productions" (1). In order to prevent another cultural appropriation outbreak in Pocahontas, the producers hired Native American advisors to join their team and cast Native American performers to provide the voices for the main Native American roles.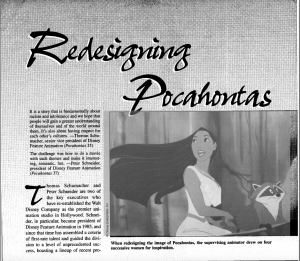 (Gary Edgerton and Kathy Jackson's article, "Redesigning Pocahontas: Disney, the 'White Man's Indian,' and the Marketing of Dreams.")
However, by creating a story about Pocahontas (while attempting to incorporate love, drama, and music), they risked continuing the stereotype of the "Hollywood Indian," as outlined in Gary Edgerton and Kathy Jackson's article, "Redesigning Pocahontas: Disney, the 'White Man's Indian,' and the Marketing of Dreams." This stereotype is an image focused on representative types and traits that are typically used to depict Native Americans in films, such as dress and spirituality (1). Beyond the "Hollywood Indian" stereotype, the producers of Pocahontas also allowed the "Vanishing Indian" theory to strengthen.
It all began in their marketing campaign, specifically their partnership with McDonald's.  A 20 second McDonald's commercial from 1995 opens with a flute-like instrument playing, accompanied by a rhythmic drum sequence. The camera zooms in on two children, wearing what looks like modern-day Native American Halloween costumes and feathers in their hair, playing with the Pocahontas toys from the McDonald's Happy Meals. Next, an older man beckons the children into a teepee, where they start watching the Disney movie Pocahontas. The commercial concludes with two individual dressed in what looks like wooden masks and armor playing with the Happy Meal toys. This commercial exudes stereotypes from the "Hollywood Indian" stereotype, such as the dress, non-historical teepee, and the men in wood, which seems to inaccurately symbolize spirituality and tradition.
(The 1995 McDonald's commercial advertising Pocahontas)
This ties into the liberties that Disney took throughout the movie, such as distinguishing the violent and traumatic experiences that the real Pocahontas endured, such as her kidnapping, isolation from her people for a year, marriage, and eventual death at age 21 from tuberculosis. By leaving them out, they strengthen the "Vanishing Indian" theory, as discussed in Dan Blim's paper, "MacDowell's Vanishing Indians", with Pocahontas a specific example of an Indian vanished into history, ignoring her true fate and primarily remembered by her Disney-depicted fate (2).
However, Disney is not entirely to blame for the diminishing of Pocahontas' true story.  A May 1907 edition of Ladies' Home Journal published an article titled "The Love Story of the First American Girl", written by Laura Spencer Portor. This article begins, "Few of us know the entire story of Pocahontas. Yet it is a delightful story so full of romance that it might fitly begin in the old romantic way, 'Long, long ago,' or 'Once upon a time'." (4)  It continues talking about a romance between John Smith and Pocahontas, portraying her history as one like a fairytale. As shown by this article, the idea of the "Vanishing Indian" in terms of Pocahontas was a concept that was initiated very early on, much before Disney; people didn't want to acknowledge the dark, violent aspects of her life brought on by their ancestors. Rather, they wanted to think about a Native American princess falling in love with an Englishman, saving the colonies from disaster from the "savages." Disney, however, only further prompted these stereotypes and false account of Pocahontas' life.
As summed up by Edgerton and Jackson:
"The film's scriptwriters chose certain episodes from her life, invented others, and in the process shaped a narrative that highlights some events, ideas, and values, while suppressing others…Disney's Pocahontas is, once again, a parable of assimilation." (1)
Bibliography:
[1] Edgerton, Gary and Kathy Merlock Jackson. "Redesigning Pocahontas: Disney, the "White Man's Indian," and the Marketing of Dreams." Journal of Popular Film and Television 24, no. 2 (Summer, 1996). 90.
[2] Blim, Daniel. "MacDowell's Vanishing Indians." Paper presented at the Annual Meeting of the American Musicological Society and the Society for Music Theory, Vancouver, BC, November 2016.
[3] OnTheTelly. YouTube. YouTube, September 14, 2016. https://www.youtube.com/watch?v=ybOxxshm7YA.
[4] By Laura Spencer Portor Author of "A Gentleman of the Blue Grass," "'The Light of,Other Days. "The Love Story of the First American Girl." The Ladies' Home Journal (1889-1907), 05, 1907, 10, https://search.proquest.com/docview/137050608?accountid=351.