Neil Rosenberg's book Bluegrass: A History presents a greatly different idea of bluegrass history when being compared to Rhiannon Giddens' keynote speech at the International Bluegrass Music Association Business Conference. I took particular interest to Giddens' point that scholars and historians, which surely includes Rosenberg, have contributed the erasure of black history in bluegrass. This general lack of representation led me to wonder if there is anyone who has worked to include the black narrative into the history of country music and bluegrass. It is likely that some individuals, such as Rosenberg, would argue that there is a lack of written or recorded history of black people within these genres because they simply did not contribute a lot to this type of music. However, in searching for Black Appalachian music, I stumbled upon this album, titled Deep River of Song: Black Appalachia. Although it is unclear as to why the album specifically refers to Appalachia (which perhaps should be a topic of research in itself), the songs in the album are labeled as "Country", with the sub-genres of "Old Time" and "String Band". This album is from the Alan Lomax Collection, sparking my curiosity in Alan Lomax as an ethnomusicologist, since he seems to be one of the few people who has strived to record the history of black country music.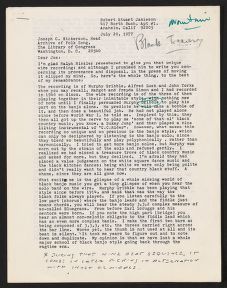 Something I find particularly interesting is a letter Lomax wrote to Joseph Hickerson at the Library of Congress, which is included in his manuscripts in A Recorded Treasury of Black Folk Song, 1978-1981, Black Appalachia. In this letter, Lomax describes his account of recording Murphy Gribble, a black banjo player, and his band. Lomax highlights characteristics of their music, including the presence of polyphony, and the instrumentation of banjo and fiddle, that are often described as traits of bluegrass. Lomax even acknowledges:
"If you listen carefully… you will hear the steady 3,3,2 complex measure of so-called Bluegrass. From before Earl Scruggs and his mentors were born."
Here, Lomax clearly states the contradiction within the history of bluegrass. Earl Scruggs is the one credited with this core sonic marker of bluegrass, yet Lomax has recorded, physical proof that it existed before him. Not only that, but Lomax found it in music performed by individuals part of a group that is virtually nonexistent in dominant bluegrass history. Listening to other performances by Murphy Gribble and his other band members, the similarity with bluegrass is undeniable.
Lomax clearly greatly contributes to the documentation of black music/musicians and in conveying the role black music played in the creation of bluegrass. That being said, there is still a gap between his work and getting others, such as Rosenberg, to acknowledge it. It is unfortunate that this research and collection of black country music sets Lomax apart from others. He undoubtedly deserves credit because of his role in preserving the music and existence of black people in genres that generally ignore it. But it is precisely that failure of others in recognizing it that is disappointing. Appreciating black contribution within this type of music is something that should be done more widely. If it was, rather than Lomax being recognized for representing an underrepresented group within the world of country and bluegrass music, it would be the black musicians being recognized for their musical contributions to the world.
Sources:
Lomax, Alan. "Alan Lomax Collection, Manuscripts, A Recorded Treasury of Black Folk Song, -1981, Black Appalachia, to 1981, 1978". Manuscript/Mixed Material. Retrieved from the Library of Congress, https://www.loc.gov/item/afc2004004.ms120226/

Murphy Gribble, Albert York, & John Lusk,

Pateroller'll Catch You,

youtube, 2:33, https://www.youtube.com/watch?v=KfD_pkVRGbA

Niel Rosenberg,

Bluegrass: A History

(Urbana: University of Illinois Press, 1985).

Rhiannon Giddens, "2017 IBMA Business Conference Keynote Address" (presentation, IBMA Business Conference, Nashville, TN, September, 2017).

Various Artists. Deep River of Song: Black Appalachia. 1999. Rounder Records, CD.