Growing up, every first Friday of the month my mom and I would go to folk music sing-a-longs with groups of her folk music loving friends. It was always a lot of fun; we sang great tunes by Pete Seeger, Bill Staines, Bob Dylan, the Beatles and much more, accompanied by guitars, drums, and fiddles. As a kid I always thought Pete Seeger embodied what it meant to "be American." My mom worked with the Madison Folk Music Society, and actually met Pete Seeger a couple of times. Upon finding this video entitled "Folk singers linked to alleged 'Communist Conspiracy'" I was shocked to learn that Pete Seeger was accused of being a communist (and didn't deny it,) mostly because I had heard such negative things about the ideology and such positive things about Pete Seeger from my mom. I was surprised that she never mentioned this to me.
Many consider Pete Seeger to be the father of the folk music revival, and it's no wonder why. He was born into a musical and pacifist family in 1919, and spent his adolescence playing the ukulele and four-string banjo. After dropping out of Harvard at 19 to become a journalist in New York, Seeger discovered he was talented at playing the five-string banjo and knew he wanted to learn more about folk music. He then worked for Alan Lomax at the Archive of American Folksong at the Library of Congress. After meeting Woodie Guthrie in 1940 and traveling the country together playing music for gas money, Seeger and other folk musicians started Almanac Singers. This group aligned with left-wing social movements, as they specialized in anti-war and pro-union songs. A representative example of their political message is evident in the song "Which Side Are You On?" While this song was originally written as a union organizing song for miners enduring a violent struggle with mine owners, its lyrics fit very well with Seeger's questioning of politics and his advocacy for radical social change. Here is a video with the original recording of the Almanac Singers "Which Side Are You On?"
This leads me to the video that challenges Pete Seeger's folk ideals. In 1957 Seeger was cited on ten counts of contempt of Congress after he refused to testify before the House Committee on Un-American Activities (HUAC) in 1955. This video shows the original proposal to HUAC that Pete Seeger and his folk music were Un-American.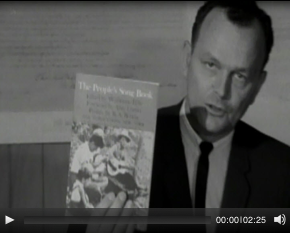 An article entitled "Congress Creates a Frankenstein" published in the Chicago Defender in 1953 argues that HUAC,
"began to destroy the freedom expression, freedom of speech, freedom of action and freedom of thought when it pulled in some of the country's greatest artists, playrights, actors and producers to question them on their loyalty to their government."
This committee was part of the second Red Scare, which refers to the fear of communism and its destruction of true American politics, culture, and society that spread across the country in the 40s and 50s. This critical opinion of the committee identifies fundamental problems with HUAC – it its pursuit of the "anti-American" it engaged in an essentially anti-American activity. Pete Seeger would certainly agree with this perspective. He refused to testify, as he believed that the questioning of his musical and political endeavors was his own business as an American, and the government had no right interfere.
So, how has Pete Seeger remained so "American" after all this time? Can we divorce a person and their art from their politics? Why do we still view communism as so distinctly at odds with Seeger's message of peace? We often separate his communist ideology with his message of peace, but why can we not see these political views as an integral part of his message.
Sources