In her Los Angeles Tribune article published in 1959, Almena Lomax reviews the newly released debut album Little Girl Blue by Nina Simone. In this review, she traces Simone's influences to several big-name jazzers at the time including, but certainly not limited to Duke Ellington, Billie Holiday, and Louis Armstrong. The article also notes of how Simone draws upon her classical piano studies and how she freely dances across the lines of classical and jazz styles, combining them in such a way as to never stray too deep into one of those musical territories, but consciously being aware of the genre mixture she was playing with. In this respect she also can be compared to George Gershwin, from who she also draws much inspiration, this is evident by her cover of "I Loves You, Porgy" from Gershwin's Porgy and Bess. The article further goes to suggest that Nina Simone is " an ethnic American Negro who is so 'ethnic American Negro' that we feel like the expression was coined for her. Already ecstatic about her quick rise to fame, little did the author know that Nina Simone would eventually become a common household name and her music a staple in the American Jazz idiom. Now we face the question: was Lomax right? On the one hand, to say that N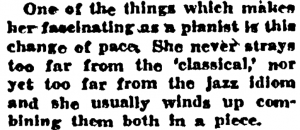 ina Simone's music is a holistic representation of African American music is certainly inaccurate. However, Simone's influence over not only African American music but all of American popular music from the time she first released her Little Girl Blue even to the present day still goes strong. We can see this through numerous recordings and live performances of her music put on by contemporary jazz and popular musicians today.
Nina Simone For Lovers. Cond. Hal Mooney and Horace Ott. Rec. 25 Jan. 2005. Verve Records, 2005. Music Online: Jazz Music Library. Web. 9 Oct. 2017. 
TY  - NEWS
N1  - Provider: NewsBank/Readex, Database: America's Historical Newspapers, SQN: 12C5FE5C375C5530
TI  - Notes for Showfolks by Almena Lomax an Ethnic American Negro
PY  - 1959/12/04
JF  - Los Angeles Tribune
VL  - 19
IS  - 43
SP  - 19
CP  - Los Angeles, California
ER  -