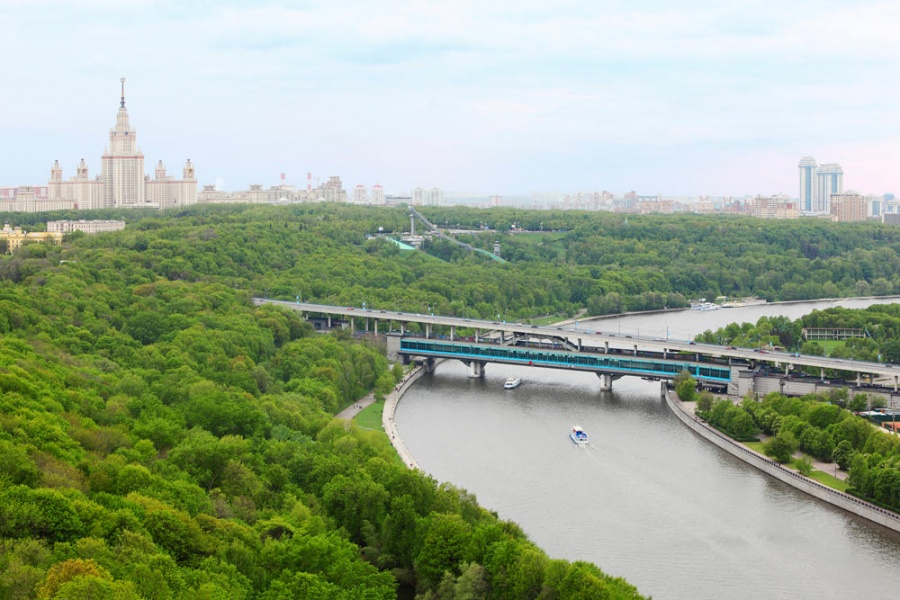 http://redigo.ru/geo/Europe/Russia/poi/11194/media/photo
Sparrow Hills (Vorobyovy Gory), also known as Lenin Hills (Leninskiye Gory) between 1935 and 1999, is a hill on the right bank of the Moskva River and one of the highest points in Moscow, reaching a height of 220 m (720 ft), or 60–70 m (200–230 ft) above the river level.
The observation platform, which gives a good panoramic view of the city, is on a steep bank 85 m (279 ft) above the river, or 200 m (660 ft) above sea level. The Luzhniki Stadium (formerly the Lenin Stadium), where the opening and closing ceremonies for the 1980 Summer Olympics took place, is right below, across the Moskva River. Next to it there is the Novodevichy Convent, with its Naryshkin Baroque towers.
Not far from the observation platform is the Luzhniki Metro Bridge. The two-level Metro-Bridge traverses the river to link Komsomolsky Prospekt with Vernadsky Prospekt. It serves two urban transport systems: motor vehicles and the Moscow Metro subway. The glass-walled subway station Vorobyovy Gory is at the lower level of the bridge.
The main landmarks of the hills are the Moscow State University (at one time the tallest building in Europe) and the Trinity Church.