With today being what would be Thelonious Monk's 100th birthday, I thought it would be appropriate to honor his legacy by making my blog post about him. Monk is widely considered to be one of the greatest jazz pianists, and as a jazz pianist, I consider him to be one of my personal idols. Monk had a unique, unpredictable style while improvising, characterized by his angular melodies, use of dissonance, and a highly percussive attack. Monk is often credited as one of the founding fathers of bebop, the dominant style of jazz in the United States from the 40s to the 60s. Monk's mastery at the keys is rivaled by his ability as a composer. A large amount of his compositions have made it into the standard jazz repertoire, including "'Round Midnight", "Straight, No Chaser", "Blue Monk", "Epistrophy", and many more. Almost as unique as his playing style is his sense of fashion, which typically included a suit, sunglasses, and a wacky hat.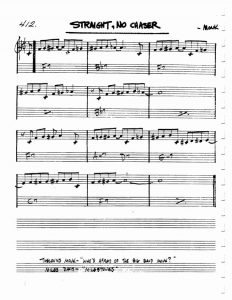 The Monk song I decided to share in this blog post is "Straight, No Chaser" which is one of Monk's most popular compositions. In this tune, Monk uses simple a simple 12 bar blues progression and a single melodic idea. The melodic idea is continuously displaced within the measure and has a unique ending each time. The result is extremely original and creative. Since it's original recording in 1951, the tune has been covered by an array of jazz giants, including Miles Davis, Bill Evans, Keith Jarret, and Cannonball Adderley. Monk's uniqueness and abrasive style made the general public slow to embrace him, but his genius was slowly realized over time. Thelonious Monk's passed away in 1982, but he was certainly not forgotten. His impact on the state of jazz is immeasurable.
http://search.alexanderstreet.com/view/work/bibliographic_entity%7Crecorded_track%7C546472
Enjoy this recording of Monk playing with his combo in Italy in 1961.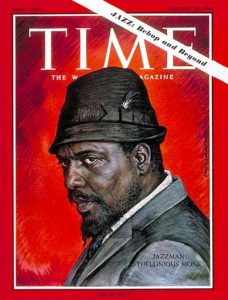 Sources
ABBOTT, FRANCES. "Monk, Thelonious: (1917–1982) JAZZ MUSICIAN." In The New Encyclopedia of Southern Culture: Volume 12: Music, edited by MALONE BILL C., by WILSON CHARLES REAGAN, 294-96. University of North Carolina Press, 2008. http://www.jstor.org/stable/10.5149/9781469616667_malone.135.
Givan, Benjamin. "Thelonious Monk's Pianism." The Journal of Musicology 26, no. 3 (2009): 404-42. doi:10.1525/jm.2009.26.3.404.