John Coltrane is known as one of the world's most skilled saxophonists.  As a jazz composer as well, his pieces fell into the bebop and hard bop jazz genres before incorporating modes and spearheading the free jazz movement.  He was never one to do the same thing twice.  He is also known for taking a theme or melody, stretching it out over a long period of time (sometimes as long as 45 minutes), repeating it over and over, playing it differently with each repetition.
In August of 1964, columnist for the Chicago Defender Louise Davis Stone managed to exchange a few words with Coltrane during the intermission of one of his shows.  She asked him a question that was on the minds of many: whether or not the jazz genre was fading and losing the interest of many of its listeners.
Coltrane did not give a concrete answer, saying, "I don't know whether jazz is dying or not.  My records are selling well and I'm happy about that.  I have no fear about my music being too way out.  You are not going to find something new by doing the same thing over and over again.  You add something to the old.  You have to give up something to get something."¹  Not having a firm answer can seem a bit disconcerting to some, especially to those to thoroughly enjoy the jazz genre.  However, Coltrane's comments about adding something to the old has merit.  How else will an artist forge their own paths if they only cover exactly what has already been written and performed?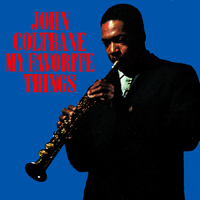 When Coltrane arranged "My Favorite Things," for example (https://play.spotify.com/track/6oVY50pmdXqLNVeK8bzomn), he was not interested in performing it the same fashion as Mary Martin and Patricia Neway from the original Broadway performance (Sound of Music).  He turned the vocal line into a solo for saxophone.  The general "groove" of the song was changed as well from the original.  Coltrane added new things to the old, made it his own, and gave the track a new life and spirit.
To the modern ear of the time, these alterations sounded more new age than what they were used to.  That is exactly what Coltrane is not afraid of: new ideas and concepts that make the listeners' ears perk up.
¹LOUISE, DAVIS STONE. "The Jazz Bit." The Chicago Defender (National Edition) (1921-1967), Aug 01, 1964. http://search.proquest.com/docview/493094849?accountid=351.