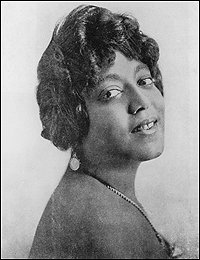 Mamie Smith's 1920 recording of "Crazy Blues" was the first successful recording of a song by a blues singer.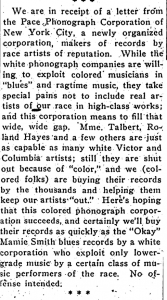 "Crazy Blues" is an important contribution to black music, but it presents some ethical problems. Mamie Smith's success with "Crazy Blues" came as a surprise to record labels, but they soon realized that making records of blues songs was profitable. A newspaper article by a black writer from 1921 talks about the exploitation of black musicians by phonograph companies. The companies used these musicians of color to sell blues music to black record buyers, but still excluded other musicians of color who performed different kinds of music. This picking and choosing of what music to produce and sell contributes to the problem of erasure in black music. There are certain kinds of music that are recorded and preserved, but others aren't, even if they are equally important.
"Crazy Blues" also brings up concerns with the development of blues. According to Elijah Wald, the discovery of race records by white people led to their reinterpretations and creation of new definitions that became very different from the original source. Karl Hagstrom Miller also acknowledges the fears of some people and their worry that the success of blues that stems from commercial record businesses covers up the Southern rural roots of blues. There were other arguments against Smith that mentioned that since she was from Cincinnati, she was not connected to the blues roots and was not a real blues singer. There are also complaints of Smith's abilities as a blues singer, criticizing that she was not any better than other white singers.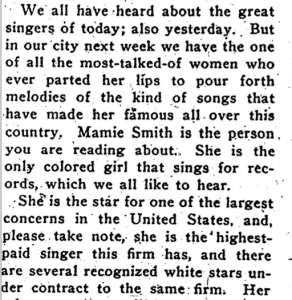 Yet, Smith has been a key contributor to the development of blues, specifically the blues that became established and accepted. Wald defines blues as whatever the mass of black record buyers called the blues. This second newspaper article from 1920 calls Mamie Smith, "the only colored girl that sings for records, which we all like to hear." Even though Mamie Smith's recording contributed to record companies that not only perpetuated racial inequalities, but possibly altered the advancement and preservation of blues, it doesn't change the fact that she was popular in the black community as a blues singer and helped define the true meaning of blues.
Sources
After You've Gone. Recorded June 18, 2014. 2014 Railroad, 2014, Streaming Audio. Accessed October 10, 2017.
"At the Howard Theater." Washington Bee. December 18, 1920. Accessed October 9, 2017.
Crawford, Richard. America's Musical Life. New York: W. W. Norton & Company, Inc., 2001.
Gussow, Adam. "'Shoot Myself a Cop': Mamie Smith's 'Crazy Blues' as Social Text." Callaloo, 25, no. 1 (2002): 8–44.

"In the World of Music." Washington Bee. February 19, 1921. Accessed October 9, 2017.
Miller, Karl Hagstrom. Segregating Sound: Inventing Folk and Pop Music in the Age of Jim Crow. Durham: Duke University Press, 2010.
Wald, Elijah. Escaping the Delta: Robert Johnson and the Invention of the Blues. New York: Harper Collins, 2004.