As one of the most recognized and respected American classical composers of the twentieth century, Aaron Copland's music reached deeply into the heart and soul of many aspiring, young American composers. Uniquely, Copland incorporated folk songs and jazz into his compositions, showcasing these popular American musical forms and creating inspiring and innovative music. Though still firmly entrenched in the rich history that accompanies jazz and folk songs (from America as well as other countries), Copland pushed the boundaries of modern day music of the late 1920s. Boundaries were also tested through his quest to repopularize European classical music and simultaneously showcase young American talent. It was this effort that led Copland to team up with another significant twentieth century American composer, Roger Sessions.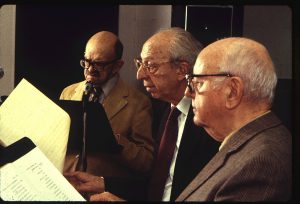 Though both men were born in Brooklyn, New York, their first meeting was in Paris in 1924 at the apartment of famous pedagogue Nadia Boulanger. This initial encounter sparked a long correspondence of letters between the two men where they wrote about many topics  including their mutual admiration for one another and their opposing views on what constitutes American music. I find this amusing, given this echoes the overarching goal of this course, reexamining and redefining American music. This was the area of concentration in their letters during the late 1920s and early 1930s. It was during this period of correspondence that Copland and Sessions began their work on an extremely important concert series, the Copland-Sessions Concerts. The concert was put together in an effort to share the works of younger generation American composers, filled with differential musical personalities, to showcase American excellence and experimentation. This is affirmed in the first concert program which concluded with the statement  "Our only wish is to stimulate composers to more prolific activity and to develop a stronger sense of solidarity among the creators of a growing American music" (Oja, 212).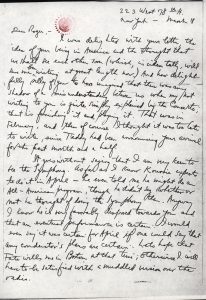 An examination of these letters demonstrates that this concert series was made possible through their correspondence, revealing not only what was said in the letters but by the style the two composers used when writing to one another. One such letter from Copland to Sessions  dated March 18th, 1927, indicates the very warm and friendly relationship the two men enjoyed. Here Copland freely expresses his thoughts and feelings on certain subject matters, while also acknowledging the lapse of time in responding to his counterpart, "And how delightfully silly of you to have imagined that there was any shadow of a misunderstanding between us when my not writing to you is quite simply explained by the Concerto, that is finishing it and playing it." Copland's words to Sessions indicate a level of care and promise on his part, addressing the idea that Sessions may have thought things were up in the air between the two. Copland reassures Sessions that he was not ignoring him, and their relationship remains strong. This is an important correspondence because it speaks to the heartfelt relationship they had formed and Copland's explicitly stated interest in Sessions' Symphony telling him, "As far as I know Koussie expects to do it in April — he even told me he might do an All-American program, though he didn't say whether or not he thought of doing the symphony then." This letter was a catalyst for Sessions launching his first critical performance and subsequently a career which highlighted his specific ideas about American music. From then on through an exchange of letters, Copland carefully outlines the idea of a concert where young American and European composers present their original works in New York. The actual series went on for 4 years, ending in 1932.
Copland and Sessions were each prominent figures in this new generation of American composers, so despite some differences, it was not considered unusual for them to orchestrate and lead this concert series, "Yet they represented different orientations, possessing viewpoints that significantly colored their attitudes toward the focus of such endeavors. Sessions, although sympathetic to the plight of the young composer, spurned all chauvinistic tendencies, was not apt to support a composer on the basis of his national origin, and espoused more international philosophy; while Copland, as was already evident in his work, was conscious of the development of a national identity and proudly championed the cause of composers in his native country" (Oja, 214). It is the qualities and beliefs of the two men outlined by Oja above that  really make me curious about their relationship, their collaborative efforts and their unique ideas about American music. Specifically, how did they truly work together on such a massive project while they were at odds about American music ideals pertaining to identity? It is hard for me to imagine something more fundamental to an artist or a composer than their identity. A deeper dive into the letters between Copland and Sessions may provide the answers I am seeking, but for right now, the two men rose above their differences and accomplished their goal to introduce avant-garde pieces in the best way imaginable, The Copland-Sessions Concerts of Contemporary Music in New York.
Citations:
"Aaron Copland, 1900-1990." The Library of Congress, https://www.loc.gov/item/ihas.200182578. 
Copland, Aaron. Letter from Aaron Copland to Roger Sessions. Manuscript/Mixed Material. Retrieved from the Library of Congress, <www.loc.gov/item/copland.corr0088/>.
Oja, Carol. "The Copland-Sessions Concerts and Their Reception in the Contemporary Press." The Musical Quarterly, LXV, no. 2, 1979, pp. 212–229., https://doi.org/10.1093/mq/lxv.2.212. 
Olmstead, Andrea. "The Copland–Sessions Letters." Tempo, no. 175, 1990, pp. 2–5., https://doi.org/10.1017/s0040298200012547.