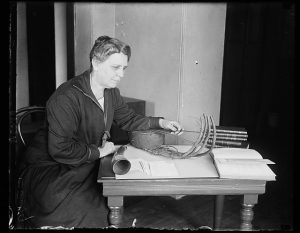 The resume of the prolific ethnographer and musicologist Frances Densmore is significant. As someone who has carried around many of her bulletins across campus on a daily basis, I can tell you that the weight of her work is heavy in more ways than one. As one of the founding researchers who developed and fostered the field of musicology in the early twentieth century, there is certainly a lot we have to thank Densmore for. However, we are not strangers to her wrongdoings either. From her white savior perspective towards many Indigenous peoples to her view that Native musics were not as evolved as the music of the white race, Densmore is anything but blameless. While we frequently discuss the recordings that Densmore produced, we might not be so aware of Densmore's collection of Native American musical instruments and artifacts. This collection raises serious questions related to cultural and musical ownership and the benefits of ethnographic study. These collected artifacts serve as yet another Densmorian lesson to modern musicologists about the potential harm that ethnographic study can have on those from whom we wish to learn. 
After working with the American Bureau of Ethnography at the Smithsonian, Densmore was then added to the staff at the National Mueseum at Washington D.C. where she oversaw the a collection of musical instruments. She also composed a catalog of these instruments that includes everything from drums, stringed instruments, flutes, and horns. But Densmore did more than just maintain museums and collections, she did some of the collecting herself in the field. In 1917, she sold a collection of Lakota artifacts to the Museum of the American Indian in New York. In 1930, she collected functional materials used by the Ojibwes in Grand Portage, Minnesota for the Minnesota Historical Society (MHS). She ended up sending eight crates filled with artifacts to St. Paul, and sold these crates to MHS for two hundred and sixty dollars. Further, Densmore learned to play some of the instruments which she collected, and would played them at her lectures. By 1980, when MHS created an exhibit for Densmore's collected artifacts, Native Americans had already began protesting the loss of their cultural items to white museums and institutions. Additionally, some indigenous people had begun to question the practice of collecting for research.
Thanks in part to her collection of indigenous mundane objects and musical instruments, 
Densmore remains the primary tutor for modern musicologists as they consider the ethics of ethnographic study. Similar to many musical expressions of her time, Densmore's work is best understood as an expression of whiteness in academic research and transmission and not as an ernest attempt to understand the cultural values and practices of another. By identifying the shortcomings in the research of those who came before, modern musicologists can develop new research methods which seek to benefit both those who are being studied as well as those who will learn form the work produced. In order to truly and deeply learn from one another, the subjects of musicological study and their cultural values and priorities ought to be placed at the forefront. Otherwise, future generations will continue to discuss how ethnographic study says more about the researcher than the subject of interest. 
Bibliography:
Densmore, Frances. Handbook of the Collection of Musical Instruments in the United States National Museum. Washington, United States Government Printing Office, 1927. 
De Vale, Sue Carole. "Densmore and the Smithsonian's Instrument Collection." Ethnomusicology. Vol. 25, No. 3, 1981, 500-502. 
Harris and Ewing. Miss Frances Densmore, expert in Indian music, who has been added to the staff of the Nat'l Museum at Wash., she was formerly connected with the Amer. Bureau of Ethnology, the Smithsonian. She is now in charge of the unique collection of musical instruments gathered from all lands and located in the Museum. Here shows with 2 of the oldest musical instruments of the Indians, an old violin and a horn made from elephant tusk. 1924, Library of Congress, Washington D. C. https://www.loc.gov/item/2016893319/
Jensen, Joan M. Patterson, Michelle Wick. "Collection with a Mission: Frances Densmore's Chippewa Artifacts." Travels with Frances Densmore: Her Life, Work, and Legacy in Native American Studies. University of Nebraska, 2015, 518-599.