Many white composers compiled and arranged a multitude of African American spirituals for the western ear to consume, although more important to discuss is the influence of the first African American arranger to change the idea of what spirituals represent. Harry Burleigh was an African American vocalist, arranger, and composer who created a foundation for African American spirituals to be represented in classical music. Growing up in Erie, Pennsylvania, in the aftermath of the civil war, Burleigh was primarily influenced by the teachings of his grandfather, who lived in slavery as a child. Burleigh connected with original spirituals such as Deep River, Sometimes I Feel Like a Motherless, and Swing Low Sweet Chariot. His experience surrounded by music as a child led to his desire to become a musician, ultimately receiving a scholarship to the National Conservatory of Music in New York City. He had a prominent career in performing and extraordinary success in putting African American spirituals in the classical realm. Below is an arrangement I discovered on the Sheet Music Consortium that is a collection of spirituals, most specifically Sometimes I Feel Like a Motherless Child, arranged by Burleigh in western classical notation.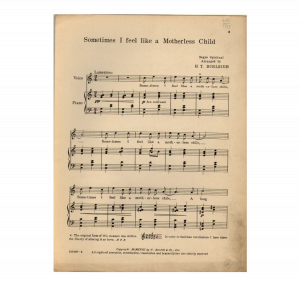 Just as discussed throughout Southern's book The Music of Black Americans, white Americans often have stereotyped and simplified African American music, creating a falsified notion of the deeper meaning behind spirituals. Southern points out that white observers often "misunderstood the singing and dancing of slaves, interpreting such activities as indicative that the slaves were unfeeling and uncaring." He further shares that they saw African Americans as "a large flock of cheerful and contented slaves… ever merry and ever working with a song" (Southern, Pg. 77). This misconception seeped its way into popular culture as African Americans gained freedom and their culture was much more prominent, specifically through minstrelsy.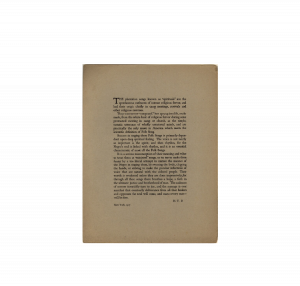 Minstrelsy was a meld of African American stereotypes built on the sole purpose of entertainment for a white audience, instilling a sense of shallowness in African American folk music. Burleigh used his talents to arrange fifty songs that could stand beside other classical staples to instill a feeling of respect and empathy for spirituals. For instance, he wrote that "it is a serious misconception of their meaning and value to treat them as minstrel songs or to try to make them funny by too literal attempt to imitate that manner of the Negro in singing them… their worth is weakened unless they are done impressively, for through all these songs there breathes hope, a faith in the ultimate justice and the brotherhood of man" (Bell). Alternatively, while western notation can take away the culture and freeness that might initially be in a song learned and sung through rote, Burleigh proves that western notation can shed light on a piece's depth and seriousness.
Bibliography
Bell, Danna. "Link to the Library of Congress: Harry T. Burleigh—The Man Who Brought African-American Spirituals to the Classical Stage." Music Educators Journal 104, no. 4 (2018): 9–11. https://www.jstor.org/stable/26588647.
Ramsey, Guthrie P. "African American music." Grove Music Online. 4 Oct. 2012; Accessed 20 Oct. 2022. https://www.oxfordmusiconline.com/grovemusic/view/10.1093/gmo/9781561592630.001.0001/omo-9781561592630-e-1002226838.
Rubenstein, David. "Sometimes I Feel Like a Motherless Child / Historic American Sheet Music / Duke Digital Repository." Duke Digital Collections. Accessed October 19, 2022. https://repository.duke.edu/dc/hasm/n0735.
Southern, Eileen. The Music of Black Americans a History. New York: Norton, 1971.