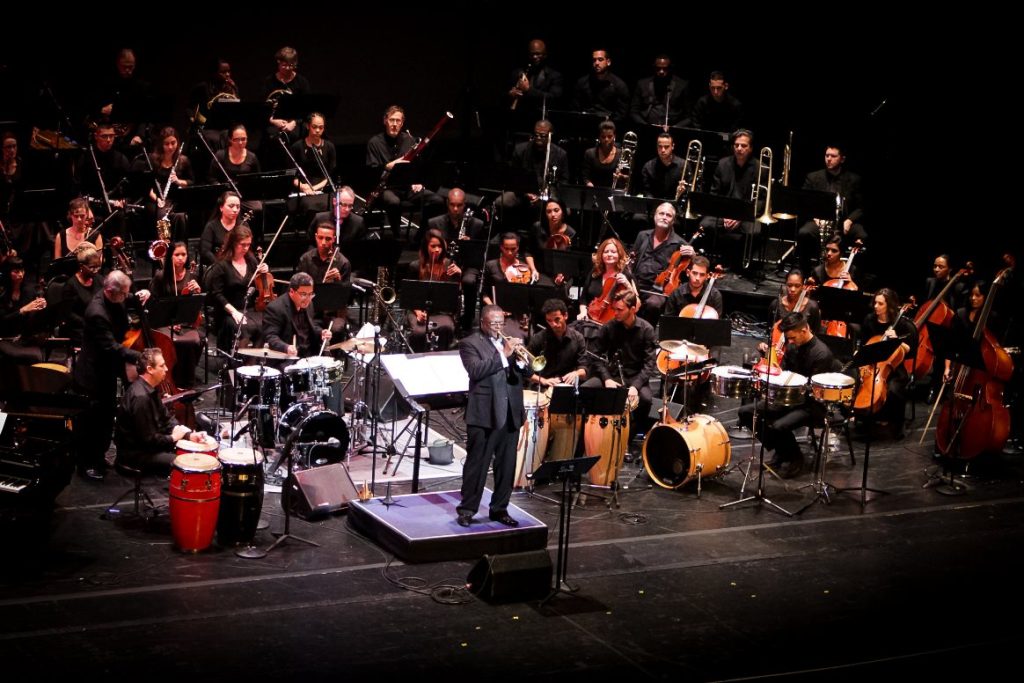 According to the article in the Chicago Defender, in December 2014, the artistic director Orbert Davis led the Chicago Jazz Philharmonic Orchestra to start collaborating with Cuban musicians. Davis believes that African American musical tradition has strong relationships and connections with their Caribbean counterparts such as in Haiti, Dominican Republic, Puerto Rico and Cuba. Davis's collaboration with Cuban musicians and student delegates has become the spotlight as US and Cuban announce the normalization of their diplomatic relations meanwhile.
I observed that the drum and percussive element of the first piece in the video shares the military/ marching-band themes and topics common in nationalistic "American" music. In the second jazz piece, we hear more Cuban traditional drum grooves mixing with spontaneous jazz chord progressions and spontaneous solo improvisations from different musicians.

This spiked my interest in exploring the similarities between jazz (an African American music tradition) and Cuban (Caribbean) music. Here I found a video of Afro-Cuban percussionist Pedrito Martinez performing in the Tiny Desk series on YouTube.
Comparing this video with the Scenes From Life: Cuba concert, both of them share the communal, spontaneous and improvisatory characteristics of music-making. Both allow the individuality of each musician the spotlight to shine while musicians (and audience) hypes up and applauds each other. Both share in their distinction from non-western-classical style and structure. The two similar yet different traditions collaborate and unites through their "otherness", as BIPOC community.

Article about Afro-Cuban music as sharing a similar African root which goes back to my initial "hypothesis" regarding African roots. The uniting of the otherness, non-western, non-classical music. Community based and focus on individuality.

I looked further into this topic about the connection between Cuban and African American music and came across a dissertation about it by Aleysia Whitmore. In a featured interview, Latfi Benjeloune, guitarist and band member of the Senegalese band Orchestra Baobab commented that
"The music didn't come home and influence African music. Cuban music is already African. These are African sensibilities that are being expressed… in some way we felt like parents with this music… it came from us". It indeed sheds light to the intricacy of musical traditions, their roots and how they come together after growing apart in different social-political climates and geographical locations."

Whitmore, Aleysia K. "'CUBAN MUSIC IS AFRICAN MUSIC': NEGOTIATING AFRICA AND THE AFRICAN DIASPORA ON THE WORLD MUSIC STAGE." African music 9.3 (2013): 111–121. Web.

Bibliography/ Source

Mdatcher. Orbert Davis: Bringing Cuba and the U.S. Together Through Jazz. https://chicagodefender.com/orbert-davis-bringing-cuba-and-the-u-s-together-through-jazz/ November 12, 2015. Online Article.

Orbert Davis y la Chicago Jazz Philarmonic presents SCENES FROM LIFE: CUBA. Video.
https://www.youtube.com/watch?v=61OdOA86_Z0

The Pedrito Martinez Group: NPR Music Tiny Desk Concert. Video
https://www.youtube.com/watch?v=GP3jS_gFs-g

Whitmore, Aleysia K. "'CUBAN MUSIC IS AFRICAN MUSIC': NEGOTIATING AFRICA AND THE AFRICAN DIASPORA ON THE WORLD MUSIC STAGE." African music 9.3 (2013): 111–121. Web.