As the class discusses minstrelsy and the history of such a vile music genre, I decided to take it a step further and delve into the nitty gritty aspect of minstrelsy. I found a guide book to "negro minstrelsy, containing recitations, jokes, cross-fires, conundrums, riddles, stump speeches, ragtime and sentimental songs, etc., including hints on organizing and successfully presenting a performance" (Haverly, 2).
Haverly describes the art of minstrelsy as something anyone can do. It further mocks p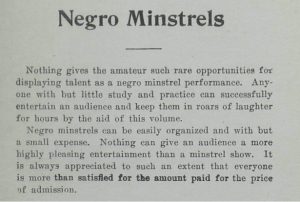 eople of color saying that it is an easy feat and that the audiences are fascinated by it.
Getting into the details of minstrelsy, Haverly sets up his guide to include any bit of information that one might need when researching minstrelsy. The guide starts by laying out valuable information on how to arrange the stage, who you should use as each of your characters (i.e. middle man, and end men), even getting into the makeup. Taking note of the make up routine of blacking one's face one can find an art behind the cruel act. Idid not realize ho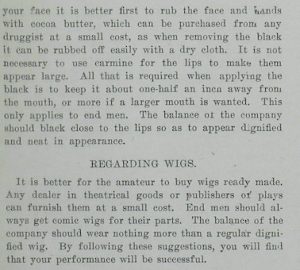 w detailed the make up process had to be. I had always assumed that one just rubbed ash or painted their faces with some sort of paint. However, the guide included the tip to first wear cocoa butter to allow for easy removal as well as the ear-mine to replicate larger lips in people of color's facial feature (Haverly, 6-7).
Haverly left nothing out and included how to make the most out of advertising for the public. I did note that he stated "if procurable 
from your local printer, get humorous darker cuts to insert upon it–thereby making it attractive or something that will not be immediately thrown away" (Haverly, 8)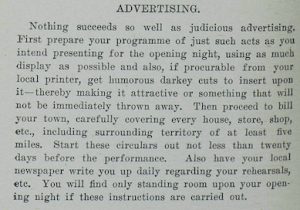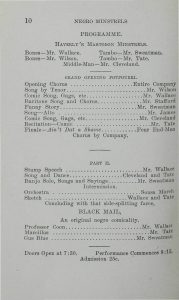 Throughout the guide, Haverly includes dozens of pages of various jokes, riddles and songs that a minstrel could use for a show. Before he gets into all of the examples he includes an example program set up.
Just one state over, four years after the guide was written, I found an advertisement for minstrelsy. It was from the Freeman newspaper written for a primarily black audience. Two Thirds of the way down the advertisement is an inclusion of "White and Drinkeley" with blackface clowns.
These two sources tell us the prevalence of this musical genre. It can show researchers the popularity of this music from. You can gain valuable information of the details behind minstrel shows. They are excellent sources for researchers looking at the history of American music or for those looking into more of the racist ordeals of our country. The information I briefly touched on above only begins to convey the information that Haverly includes in his all-encompassing guide. I strongly recommend looking further into the guide for more information.
Citations:
"Advertisement." Freeman, vol. XIX, no. 14, 7 Apr. 1906, p. [5]. Readex: African American Newspapers, infoweb.newsbank.com/apps/readex/doc?p=EANAAA&docref=image/v2%3A12B28495A8DAB1C8%40EANAAA-12C55E8EC9FC1378%402417308-12C55E8F07B85568%404-12C55E900B6CBA78%40Advertisement. Accessed 12 Oct. 2021.
Haverly, J. (1902). Negro minstrels a complete guide to negro minstrelsy. United States–Illinois–Chicago.; United States–Illinois–Chicago. https://infoweb.newsbank.com/iw-search/we/Evans/?p_product=EAIX&p_theme=eai&p_nbid=Q58J56BLMTYzNDAxMTMwNy4yNzY1ODA6MToxMzoxOTkuOTEuMTgwLjg0&p_action=doc&p_queryname=10&p_docref=v2:13D59FCC0F7F54B8@EAIX-147E02C4840557B8@4658-14A4E19D75C56D38@8