It is so interesting (and frankly funny) to look back at history and see what embarrassing things people have said and done, it's like that feeling when you log onto your old social media account and see that cringey selfie with the horrible fashion choice. Thankfully, even though we did not live to see the past, we have databases to help us dig up some dirt on those arrogant scholars. What I want to highlight is the hypocrisy when it comes to the origins of certain music and how the mainstream (which is the white community at the time) perceived them completely differently.
In this week's reading and discussion, we focused on some articles that had a lot of racist opinions and language. In his book , Jackson cited some different views on the origin of African American spiritual singing. Wallaschek argued in his Primitive Music (yikes) that the black community simply imitated white music, which is similar to what Jackson ends up arguing. In White and Negro Spirituals, Jackson pulled up a map and a statistic table in and tried to prove a point that the white hymnals is the direct causation of black spirituals' existence.
For this blog, I searched up some open ended keywords, and in my research I found out something interesting.
This is a collection of notated music for banjo. It was published in Philadelphia in 1885 by S. S. Steward(/t), and the file is titled "Plantation Jig." This source is quite trustworthy because S. S. Steward is a big name in the banjo world, and is often being brought up when talking about banjos and their history. This collection is quite similar to what a modern music book looks like, it has some music scores and the first four pages consist of information about what to look out for when purchasing an instrument, prices of sheet music and performance notices. It even has advertisements. This collection is clearly marketed towards those who want to know more about the banjo. It is interesting that on page 5, the drawing of a white man shows up. His name was J. E. Henning, and he was a banjo teacher. I did a tiny deep dive on him, and it turns out that he is still a name that pops up in the banjo making industry.
The actual musical content is also very interesting and… eurocentric. It is written similarly to an instrumental method book, with explanations of how to do certain things on the instrument as well as basic technique training. What stood out to me is tha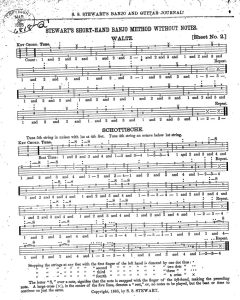 t the music selected in this collection are all very European. On page 9 of the digitized file, the two titles are Waltz and Schottische, which is a slow polka dance of European roots. Basically, in this book, Steward planted the European music traditions onto a non-European instrument. It is nuts to me that the banjo, an instrument that is 100% African in its DNA, was whitewashed since 1830 and still is being whitewashed (Winans, 174). 
Both the spirituals and the banjo are parts of American music history that involve African American and the white Americans. However, the way the white scholars/musicians went about this is very problematic and telling of societal issues. When there's similarities in white and black practices, the white scholars are quick to claim that the black community assimilated the white practices; but when the white community picked up on banjo, they did not credit the black community, but instead whitewashed the instrument and the repertoire.
Works Cited
Holmes, Michael I. "Identifying S. S. Stewart Banjos." Identifying SS Stewart Banjos, 1997, http://www.mugwumps.com/sss_date.html.
Jackson, George P. White and Negro Spirituals: Their Life Span and Kinship. New York, J. J. Augustin Publisher, 1943. 
Jackson, George P. White Spirituals in the Southern Uplands. New York, Dover Publications, 1932.
"John E. Henning." Henning # – Vintage Banjo Makers, http://www.vintagebanjomaker.com/henning/4594323455. 
Stewart, S. S. Plantation Jig. Steward, S. S., Philadelphia, monographic, 1885. Notated Music. Retrieved from the Library of Congress, <www.loc.gov/item/sm1885.06817/>.
Winans, Robert B., and Charles Reagan Wilson. "Banjo." The New Encyclopedia of Southern Culture: Volume 12: Music, edited by BILL C. MALONE, University of North Carolina Press, 2008, pp. 174–75, http://www.jstor.org/stable/10.5149/9781469616667_malone.49.