From bluegrass to jazz to ragtime and more, the banjo is everywhere in American music. Historians agree that early versions of the American banjo were brought to the Americas by enslaved Africans who were taken from West Africa (Bluestein). These instruments included a drum-like body made from a gourd with animal skin stretched over the top and a fretless wooden neck (Allen).
The use of the banjo by enslaved Africans on American plantations is well documented in the writings of white slaveholders (Bluestein). The earliest known American painting of a banjo, called, The Old Plantation was created by white slaveholder John Rose between 1785 and 1795, and depicts a group of enslaved Africans musicking on Rose's plantation in South Carolina (Encyclopedia Virginia).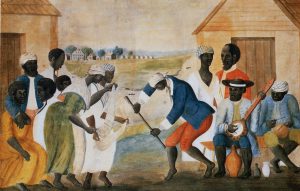 But how did the banjo make it into the mainstream? The answer, I found, is through minstrel shows. Minstrel shows were a racist form of American musical entertainment developed in the 1830s where white performers would darken their faces and perform caricatures of African Americans (National Museum of African American History & Culture).  After learning the banjo from enslaved Africans, white minstrel performers began to incorporate the instrument into their shows. Below are two examples of minstrel posters from the Library of Congress Minstrel Poster Collection that depict a caricature of a Black man playing the banjo (Links here and here), and a recording of a minstrel song can be found at the Library of Congress National Jukebox (TW: Racism and Racial Slurs).
Of course, not all white people who learned the banjo from black musicians used it for performance in minstrel shows. In her Keynote Address to the International Bluegrass Music Association, banjo player Rhiannon Giddens described the formation of Bluegrass music happening gradually as lower-class people, both black and white, shared musical ideas with one another (Povelones). However, it was the wild popularity of minstrelsy that first propelled the banjo into the mainstream in the early 1800s.