When someone has a question they want answered quickly, their first instinct is to take out their phone and Google it. Usually, a quick Wikipedia blurb will pop up at the top of the page and that's settled, your question is answered. But what if it wasn't? Not to the fullest truth anyways. 
If anyone is curious about the bluegrass genre and looks up the term "bluegrass music" on Google, they would find that "the genre derives its name from the band Bill Monroe and the Blue Grass Boys." A little further down they would find that the originator of bluegrass music is in fact Bill Monroe. Our hypothetical casual researcher would likely be satisfied with their answer and put their phone away after this. 
They shouldn't be. 
Bluegrass musician, Rhiannon Giddens explains in her 2017 Keynote Address at the IBMA Business Conference that bluegrass is the result of cultural exchange. "[it] is actually a complex creole of music that comes from multiple cultures, African and European and Native" not from "a Scots-Irish tradition with 'influences' from Africa".1
Going back to our hypothetical casual researcher Googling terms on their phone, if they wanted to learn a bit more about bluegrass music, they would find that the fourth search result when you Google "bluegrass music" is a link to the Bluegrass Music Hall of Fame website. A quick skim through the list of inductees would show them that every person ever inducted to the Bluegrass Music Hall of Fame is white. 2 
Similarly, a Rolling Stones Article titled "The New Bluegrass: Five Acts to Watch" names five bands where almost all musicians are white. 3 
So, where does the media's fascination with equating whiteness and bluegrass come from? A New York Times article on bluegrass from 1959 gives us some insight. 4

"…a form of 'hillbilly' music known as 'bluegrass' (for Kentucky, the Blue Grass State, where it was born)".4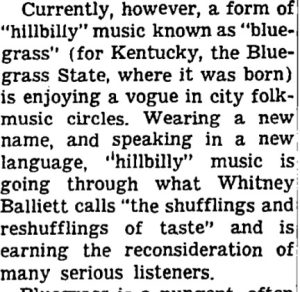 Shelton also continues to list many bluegrass artists such as Mike Seeger, Don Stover, Chubby Anthony, and Eric Weissberg, who, like from the Rolling Stones Article, are almost entirely white. 
This issue extends beyond black music. Latino artists also contribute to and create bluegrass music. Jerry Garcia is widely known as the lead singer of the Grateful Dead, but his work with his bluegrass band, Old and in the Way, is not discussed nearly as much. 5 
When we look at early reports on bluegrass along with the complicated history of American Music, it is not entirely shocking that credit is not given where it's due. A good step in the right direction is to acquaint ourselves with some bluegrass artists who aren't just white, because they exist and have for a long time. 
Some Artists to listen to and know: