The blog post for this week has been based on this short article[1] from St. Olaf College's very own Manitou Messenger published on October 20th, 1925:

This touches on a couple of interesting topics. Firstly, the fact that a white American man is categorized as a composer of "negro spirituals". Secondly, it seems to me that the fact that someone was trying to promote Afro-American music, however narrowly defined as it may be, certainly got the attention of the unnamed writer of the article, hence the choice of title. This could indicate that this was an unusual topic for the time, and this might very well be an attempt to spark a discussion in the newspaper, and to draw in the readers.
The writer does not give any details of what "the Reverend M. A. Christenson" viewed as the American folk- sound, and if he personally differentiated between American folk songs and negro spirituals as stated in the article, as if they are separate from each other and had no connections whatsoever. I admit that this is slightly speculative, but it seems to me that what in the title seems like an attempt to advocate for African American music, is actually endorsing the separatist tendency we see in the scholarly writings of the time, trying to define American music history. He wants to praise the music, but trough white man's authority and as his creation. This is of course based on the presumption that Christenson of Portland, Oregon is not an African American, this might be the case, but then the argument he is making might seem a bit regressive.
In the Vinyl collection I found this collection of Stephen Foster Favourites, containing a 1978 recording of "My Old Kentucky Home", the song that superseded Christenson's address. The Robert Shaw Chorale sings "My Old Kentucky Home" with a straight rhythm, classical technique, and the song itself is harmonised in a simple SATB-chorale style "spiced up" by some counterpoint nearing the end of the piece. This seems very "on-brand" when you look at the cover art for the record. The description in the back, if not in a bit condescending and romanticising way, does not, however, deny the Afro-American influence on Foster's compositions:
"[…] he was under the spell of the minstrel shows, the singing of the Negroes […] on the riverboats from the South, and of the Negro worshippers in a little church near his childhood home"
Bever and Robinson in their 2018 article[2] on "My Old Kentucky Home" they write about the controversy surrounding it being sung annually at the Kentucky Derby. This discussion was seemingly sparked due to to the removal of Fosters rather racially unsensitive statue, made in 1900 and situated in Pittsburgh,  a few months earlier. Bever and Robinson quote critics expressing that the statue
"glorifies white appropriation of black culture, and depicts the vacantly smiling musician in a way that is at best condescending and at worst racist,"[3].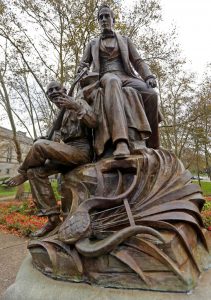 As much can also be said about Fosters music, and the way his role in the American musical canon has been presented both in the 1924, 1978 and as well as his borrowing from African American culture shows that much is glossed over to find that holy grail of authentic music without dealing with a painful past. The same goes for using his music for the sake of tradition in our own time. Bever and Robinson also include a quote by  Forster biographer Ken Emerson, which I chose to end this post with:
" "Ironically," Emerson said, "here is a song that was inspired by a great abolitionist novel, and which no less a leader than Frederick Douglass himself singled out as a song that awakens the sympathies for the slave, in which anti-slavery principles take root and flourish. So, like all of Foster's music, it's thick with contradictions that, to this day, I think, are part of the American experience." "[4]
Sources:
"Chapel Speaker Praises Composer of Negro Songs". The Manitou Messenger. No. 6, Vol.039, October  20th, 1925. Page 4. Northfield, United States https://stolaf.eastview.com/browse/doc/45709272
Bever, Lindsey. Robinson, Lynda. "'My Old Kentucky Home': The Kentucky Derby's beloved, fraught singalong about slavery".  The Washngton Post. May 5, 2018. https://www.washingtonpost.com/news/retropolis/wp/2018/05/05/my-old-kentucky-home-the-kentucky-derbys-beloved-fraught-sing-along-about-slavery/ [Accessed October 30th, 2019
Photo:
Statue of Stephen Foster https://www.washingtonpost.com/resizer/tojNvSZQTrTrpF2qfCst1OWMJP0=/1440×0/smart/arc-anglerfish-washpost-prod-washpost.s3.amazonaws.com/public/SNJPNNFVZUZFRHAVFS6W7LYOUE.jpg  [Accessed 30.10.2019]
[1] The Manitou… 1925: p. 4
[2] Bever and Robinson 2018
[3] Ibid
[4] ibid