As my first search in Sheet Music Consortium, I mindlessly typed in "Dvorak." Mostly using this search as a test run to see how the database works, I expected to come up with a hundred and one variations on "The New World Symphony." Instead, what I found was a conglomeration of pieces by Antonin Dvorak himself and American popular songs that were evidently based on these works.
In particular, the fourth result up was a song called "Goin' Home," billed as a "Negro Spiritual from the Largo of The New World Symphony."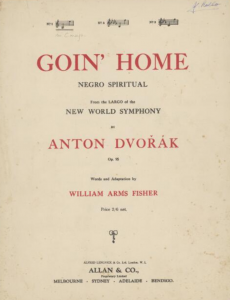 As it turns out, the largo of the New World Symphony doesn't really quote any particular spiritual directly, and "Goin' Home" is not a preexisting spiritual but a song adapted from the Largo and set to words by one of Dvorak's white students, William Arms Fisher. After reading for class about Dvorak's assertion that American music should be based upon spirituals, I found it extremely ironic to find that the chain of influence for one of the most well-known "spirituals" connected to Dvorak goes the opposite direction. Rather than finding any authentic spirituals on which Dvorak based his American symphony, I stumbled upon popular songs and "spirituals" that were manufactured from the precise melodies in Dvorak's work.
"Goin' Home" is not the only instance of this that I found right away. Another popular song, "In your moonlit bower," by Jas. H. Harrington, popped up as a song "adapted from Humoresque by A. Dvorak."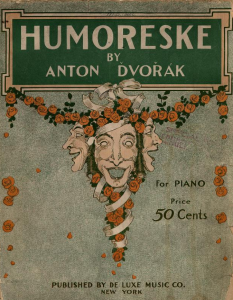 While there was no actual sheet music available for the adapted song, the Humoresque is immediately recognizable to most of us by recording. The mere fact that American popular music seemed to conjure up some sense of Americanness by reverse engineering from Dvorak's work, which may have contained minimal direct American influence in the first place, raises many questions for me.
Is it right to claim that we are placing African-American spirituals at the center of a new American music if the piece that started this new music only vaguely references this music? Is it right to create new music based on a piece which only gives a broad sense of what a white man perceived to be the "spirit" of spirituals? And how can we make sense of the Czech composer's contributions to creating an American music when his direct exposure to actual American music was severely limited before the composition of "The New World Symphony". All of these questions and more are issues we must grapple with as we consider the role Dvorak played in creating an "American music."
Works Cited:
Antonin Dvorak, Humoreske; Op. 101, no. 7. De Luxe Music Co. New York, 1911. Sheet Music Consortium. https://library.duke.edu/digitalcollections/hasm_n1466/, accessed October 20, 2019.
William Arms Fisher, "Goin' Home", Melbourne: Allan & Co., c1922. Sheet Music Consortium. http://nla.gov.au/nla.obj-175033277/view?partId=nla.obj-175033289#page/n0/mode/1up, accessed October 20, 2019.